By Becky Keller, Orangutan Coach. Did you ever just look at someone or something and just know…that what you were seeing would change you to your core? Besides feeling that way when adopting each of my three daughters, I felt that way when I took my first trip to Borneo to "see" orangutans in 1996. To this day, I have no idea why. It is just a connection.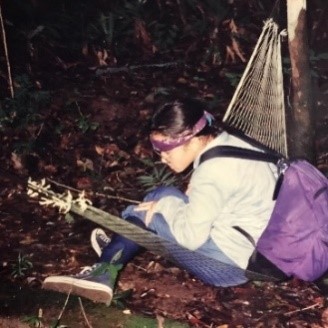 Sara Keller looking for leeches.
I remember looking into the eyes of my youngest daughter when she was laid in my lap for the first time. We were in a hot, humid room of an orphanage on the southern coast of China. I looked into her eyes and saw into her heart where our souls connected. That was the same feeling when I first looked into the eyes of an orangutan in the wild. I was mesmerized. It seemed like we stared at each other for a long time. I looked into the eyes of an adult female as she looked into mine (which is unusual when being around primates). As we looked at each other, I felt like I was looking into some kind of mirror – seeing a vision of myself but different. Seeing an experience – knowing it and wanting to know more at the same time. I looked through her eyes to her heart and connected with her soul. I felt as if I was looking at a part of me.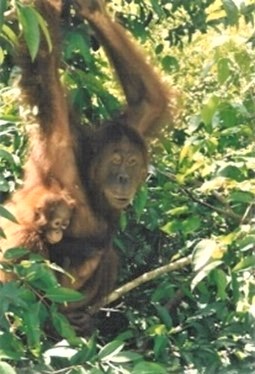 Who is "seeing" whom?
We were doing a "follow" that day. That meant we basically trekked out into the rainforest of Kalimantan, Borneo with our Indonesian guides (or we would still be there) and first tried to find orangutans that we could track or basically "stalk" all day. We left at dawn hoping to find the orangutans as they were first getting up from their nest which they had made the night before. The Guides knew where they usually were or at least where they were the last time, they, themselves, were in the area so we started out under their direction. This was to be an all-day trek.
We carried water, Gatorade, and enough food to hopefully last until dusk when the orangutans would be making their daily night nest and settling down to sleep again. We carried a hammock to string between two trees so when we found orangutans, we would be able to sit and rest if they decided to stay in a spot and rest or feed themselves. We felt lucky when the orangutans chose that option. Although, as we took notes on what the orangutans were doing, generally high above us in the trees, we were very aware - they were very aware of us - immediately below them on the forest floor. We watched for dropping fruit rinds, seeds, and release of bodily fluids from above while keeping an eye out for leeches, millipedes, and snakes from below. "Resting" in the hammock was more of a concept than reality most times.
Email: becky@beckykeller.com