By Becky Keller, Orangutan Coach. June is a month of firsts and celebrations. World Environment Day (June 6th), World Oceans Day (June 8th), Father's Day (June 16th), Juneteenth or Freedom Day (June 19th), World Rainforest Day (June 22nd) as well as a month eagerly looked forward to by many young people…the "I am out of school for the summer" time! But for members of the Orang Utan Republik Foundation, it is the month where you can now sign up for your free Orangutan Coaching sessions.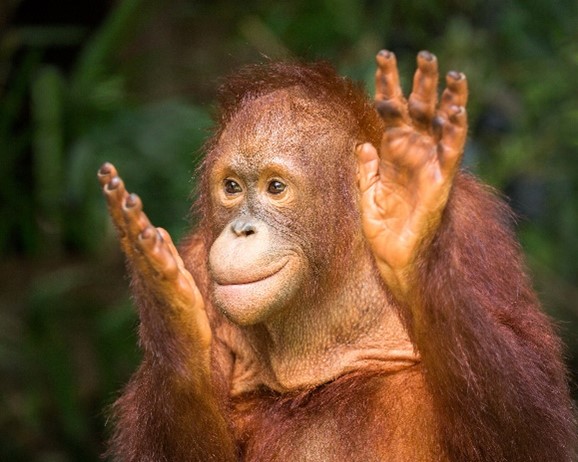 So - if you have found yourself here because you are interested in orangutans – then you are in the right place. You have a unique talent that is ready to burst forth with renewed energy! As an Orangutan Coach, it will be my honor to help clarify and build on that with you.
An Orangutan Coach helps people – who are interested in volunteering, helping, studying about and/or working for/with orangutans – discover how to use their talents, skills, and/or gifts to create a better life for orangutans as well as how to create their own best life.
As a coach, having been involved in the orangutan arena for more than 25 years, I have a unique perspective of one of our closest relatives. After visiting orangutans in their native habitat, I am keenly aware of the challenges they face and the importance and sensitivity of our connections. As a volunteer for various organizations over more than 25 years, I have learned the importance and impact that volunteers have on an organization and the community in which they serve.
I love orangutans, coaching, volunteering, and helping people. I have done all those things in one way or another for most of my life and now want to share it with others. So, I have come up with a way I think will work, help others, and that people will get a lot out of for themselves.
Members of the Orang Utan Republik Foundation (OURF) can receive one free coaching consultation call and up to six FREE group ORANGUTAN COACH sessions over six months or four FREE individual Orangutan Coaching sessions over four months as a benefit of their membership or being an active volunteer in OURF.
These coaching sessions are being offered as a way of helping new or established member volunteers to clarify their direction and explore how and where they may want to be involved with the membership of the Orang Utan Republik Foundation (OURF). If your love or interest in orangutans is the foundational or driving force in what is drawing you to help orangutans, then Orangutan Coaching can help you. I am here to help you to develop action steps for your vision and purpose – your journey forward.
Orangutan Coaching is all about YOU making positive changes to create the life you truly desire. In coaching sessions, I will assist you in the process of expanding your vision of what is possible. I will assist you in finding your niche.
Throughout the coaching process, you will be able to move beyond self-imposed limitations and bravely face challenges when they arise. Orangutan Coaching is future- and solution-based rather than problem-oriented.It is a unique initiative that provides added-value techniques/focus that can be helpful when combined with overall life coaching.
A few benefits to YOU of Orangutan Coaching:
♥ YOU gain focus and direction in how you want to serve and identify your strengths and abilities
♥ YOU determine how you will fit into both your local and global communities
♥ YOU set and achieve personal goals
♥ YOU gain clarity
♥ YOU navigate career changes
♥ YOU explore volunteering or working with orangutans and what that really means (for YOU)
♥ YOU allow your intuition to guide you in decision making
♥YOU identify and move through fears
Here is how the OURF free Orangutan Coaching Program works.
Members/active volunteers (volunteers who have documented 60 or more hours/year in their Volunteer Tracking database) contact me (becky@beckykeller.com) with your phone number and email for a free consultation call to see if we are a good fit to work together,
I will schedule a call with you during which, if you are interested in coaching, you can sign up for free individual coaching sessions (up to 4 sessions over a 4-month period)
Or
You may sign up to join our (free) first group coaching sessions scheduled to begin Saturday, Oct 2, and run for six months (through March 2022) with one session held each month together as a group (six group coaching sessions total). I will send updates in between the group sessions.
You may also visit my website at orangutancoach.com for additional information on these FREE orangutan coaching sessions offered for OURF members/volunteers only. Because of the international reach of OURF members and volunteers, sessions may be conducted via zoom, skype and/or telephone.
♥ An Orangutan Coach is a Life Coach who works with humans who want to study, volunteer, and/or work for/with orangutans and whose love or interest in orangutans is the foundational or driving force for interest in coaching and/or volunteering.
♥ An Orangutan Coach works with a person's energy of wanting to help orangutans, helping people peel back the layers of their interests like an orangutan peels back the skin of a banana. When people peel back enough layers of their interests, when they get to the core, they can then identify what they have – either their life purpose or just a banana. Either way, they start to clarify what they want to do with it.
♥ An Orangutan Coach then works with clients on clarifying and focusing the energy of their interests and desires in a direction that fuels their passion and feeds their life purpose.
I believe that as human beings when we practice self-love, acceptance, and approval - all areas of our lives improve. My goal through coaching is to explore with you the tools to access the "Inner-Self"- the intuitive part of yourself that already has all the answers and knows the truth.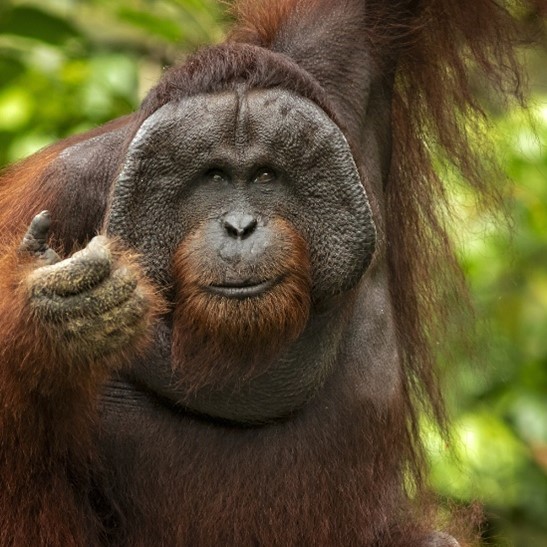 The ultimate direction of action taken - is in your hands. I will work by your side, helping to keep you focused and motivated, acting as a sounding board for your ideas, working through new approaches to how you can help orangutans and be of service to your community, moving very quickly to create the life you desire! You may decide to volunteer for an hour. You may decide to volunteer for a month. You may decide to go in a different direction…the energy, strength, and determination you bring to our sessions will fuel the passion inside of you and impact the decisions YOU make.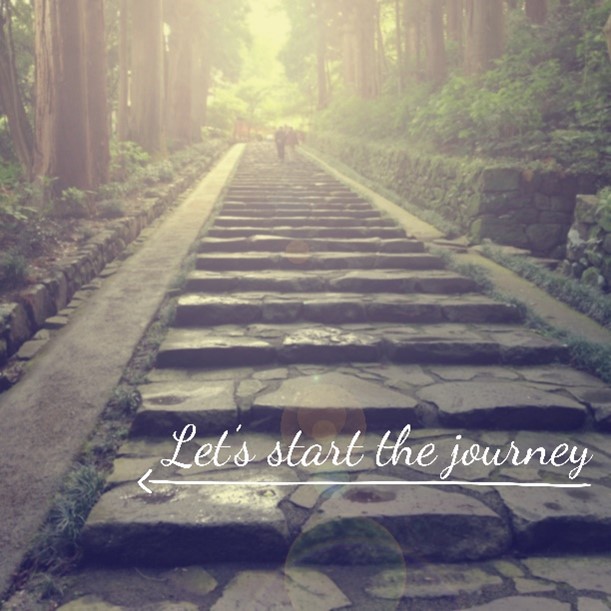 Visit my website at www.beckykeller.com or www.orangutancoach.com for more information on the FREE OURF Orangutan Coaching Program, additional fee-based Orangutan Life Coaching session, more about me and how Orangutan Coaching can benefit YOU.
Email: becky@beckykeller.com