Before the explosion of palm oil plantations in Indonesia and Malaysia, logging was the greatest threat to orangutan populations.
Logging has historically taken place in two forms, legal logging, based on government granted concessions, and illegal logging, usually taking place by rogue groups of men on non-permitted land, although, in Indonesia, the definition of legal and illegal has always been rather complicated, due both to the nature of former president Soeharto's stronghold on the country, and current ongoing corruption. After rising to power in 1967, President Soeharto declared all forests in Indonesia property of the state and allocated concessions to friends, family and business associates, who often logged indiscriminately. Although the Ministry of Forestry's own figures show that, in 1993, 84% of concession owners were breaking the law (EIA, 2005), Soeharto's dictatorial grip on the country was so strong that these concessions were essentially legal. By 1998, Indonesia was losing two million hectares of forest every year to both legal and illegal operations, and 72% of the country's original forest had been lost (EIA, 1999).
After his fall from power in May 1998, illegal logging in Indonesia was at its peak. The huge vacuum created by his absence caused utter lawlessness throughout the country, and, coupled with the huge resentment local people felt for the national government, protected areas in the country were overrun with loggers, including national parks. Gunung Leuser National Park in Sumatra saw widespread orangutan habitat loss, Kutai National Park and Tanjung Puting National Park in Kalimantan were overrun with loggers, with $120 million worth of Ramin, a valuable hardwood, being taken out of the latter in 1999 alone (Galdikas, 2006). Research in Gunung Palung National Park in West Kalimantan found that, after the fall of Soeharto, 40% of local people living adjacent to the park were gaining their main source of income from illegal logging (Hiller et. al., 2004).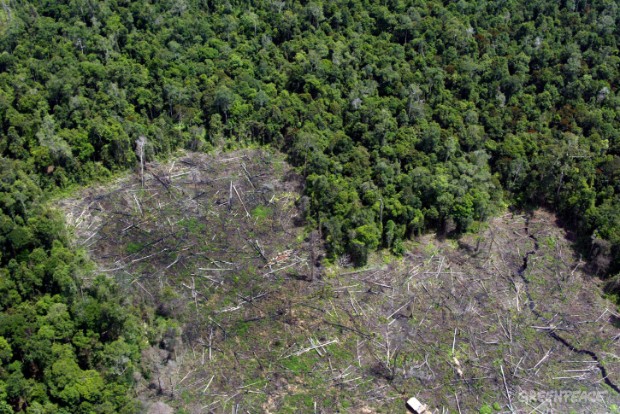 Although much of the illegal logging that blighted Indonesia's national parks in the last decade has been brought under control, the forests are still under threat. Sawmill operators frequently purchase and process woods from both legal and illegal sources, and it is estimated that over 70% of wood products exported out of the country are from illegal wood sources (EIA, 2006). The sheer amount of logging in Indonesia is simply unsustainable. Such logging practices not only indiscriminately remove the trees that orangutans depend on, but they also threaten the existence of thousands of other plants, birds, mammals and insects, and negatively impact the future prospects of local people, and Indonesia and Malaysia's forest-dwelling tribes.
Former Indonesian President Susilo Bambang Yudhoyono and current President Joko Widodo (Jokowi) have made the elimination of illegal logging one of their top environmental priorities. Not only does illegal logging degrade orangutan and other wildlife habitats, but it also robs the nation of billions of dollars in revenue and any chance of creating sustainable forests for future generations. Illegal logging and its impacts are discussed in the UNEP Report Last Stand of the Orangutan.
---
References
EIA. (1999). The Final Cut. Environmental Investigation Agency report, UK.
EIA. (2005). Indonesia's Illegal Logging Crisis. Environmental Investigation Agency report, UK.
EIA. (2006). Violence in the Forest. Environmental Investigation Agency report, UK.
Galdikas, B. (2006). Saving orangutans in Borneo. Mongabay.com.
Hiller M.A., Jarvis, B.C., Lisa, H., Paulson, L., Pollard, E.H.B. & Stanley, S.A. (2004). Recent Trends in Illegal Logging and a Brief Discussion of their Causes: A Case Study from Gunung Palung National Park, Indonesia. Journal of Sustainable Forestry, vol. 19, no 1, pp. 181-212.