If you have time to volunteer to help in the cause of orangutan survival, please contact us through VolunteerMatch.org or via email at info@orangutanrepublik.org, and let's see what you can do to make a difference. Our greatest need is to raise awareness about orangutans, particularly in Indonesia. However, raising awareness where ever you live is always beneficial in the overall cause. By letting others know about the orangutan, its plight, and what OURF & TOP-USA are doing, they might feel compelled to help in other ways. Find an event such as Earthday, Conservation Week, or Orangutan Caring Week. Locate a venue such as a park, a school, library, shopping mall. Find some friends and sponsor a booth or table. It is easy to learn the basics. We can help you put together a display so you can tell the story and inspire others to take action.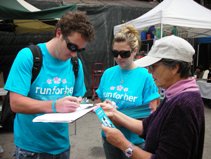 We also need help with fundraising. If you want to help raise funds, there are many fun and enjoyable ways to do this. Consider the following possibilities and maybe you have ideas of your own: set up a fundraising page at Givelively.org, bake sale, car wash, sponsored sporting event (walk-a-thon, 5K run, golf, swimming, hiking), orangutan video-party, holiday party, birthday party, Karaoke night, and garage sale. Hold a potluck and invite your friends. Ask them to bring a dish and contribute an amount that would be equal to what they might have spent had they gone out to dinner.
Finally, perhaps you know someone who should receive our brochure. You can download the OURF brochure. Or let us know and we can send it to them. Certainly, you can help by letting them know about our website.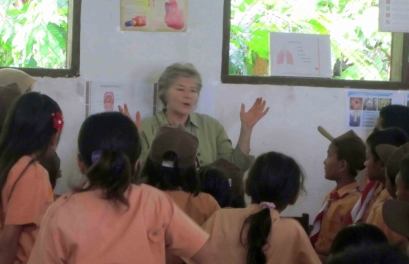 Special Volunteer Program. OURF occasionally seeks qualified volunteers for placement in Indonesia to help build the capacity of the local organizations we are supporting. Due to the difficulty of placement, these positions are rare and only for the most patient and talented volunteer. Please contact OURF at info@orangutanrepublik.org if you are seriously interested in being considered for such a position.