DECEMBER 2022 ECOTOUR OPPORTUNITY (SOLD OUT!- ASK TO JOIN THE WAITLIST IF INTERESTED)
Join OURF founders Gary and Inggriani Shapiro for an ecotour in Borneo! We had to postpone our May 2022 tour due to Covid-19 concerns, but now we have our December 2022 expedition. The 14-day trip (December 30, 2022 - January 12, 2023) is within and between the forests of Central & East Kalimantan (Borneo) where we'll see orangutans in their natural environment, visit the local people, and witness the changes to the rainforest ecosystem. You will be co-hosted by Dr. Gary and Inggriani Shapiro, a couple who know orangutans and Indonesia very well. Gary has been studying orangutans for over 49 years, and Inggriani is an Indonesian who is a practitioner in the eastern healing arts, including meditation, yoga, and massage therapy. Gary is co-hosting this expedition as part of his 70th birthday year celebration. Throughout the expedition, you will have the opportunity to attend lectures on orangutans and yoga therapy sessions to engage your mind and restore your body.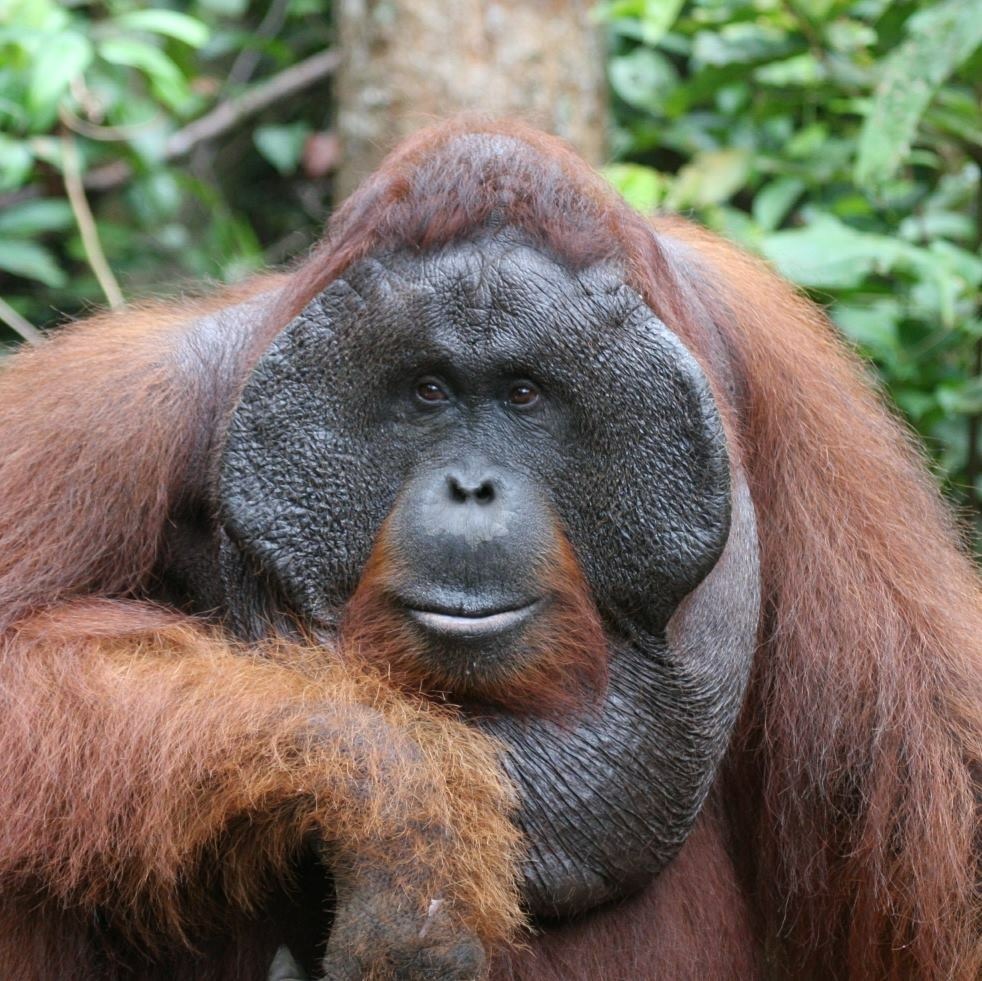 First, we'll fly to Jakarta, the capital of Indonesia (day 1), on the island of Java to meet at the nearby FM7 Resort hotel for dinner and a tour briefing.
The following morning (day 2), we fly to Pangkalan Bun in Central Kalimantan and head straight to the port town of Kumai. There we start our 3-day/2-night kelotok tour. The kelotok (or klotok) is a riverboat with a diesel engine that makes a sound like, "kelotok-kelotok-kelotok." Our first stop is Tanjung Puting National Park, where your co-host Gary spent time 40+ years ago studying orangutans, helping rehabilitate ex-captive orangutans, and conducting limnological research on the Sekonyer River. We will visit Tanjung Harapan (Cape Hope) village in the afternoon and watch amazing birds and monkeys in the afternoon from the kelotok. That night, we will have a New Year's Eve party at the famous Rimba Lodge and overnight at the lodge.

Your first day of 2023 (day 3) will begin with breakfast at the Rimba followed by a trip via our kelotok to the feeding station at Pondok Tanggui to see a population of ex-captive orangutans and their descendants. From there, we head to the world-famous Camp Leakey. At Camp Leakey, we will see both reintroduced and wild orangutans (Pongo pygmaeus wurmbii), as well as a host of other rainforest animals. Tanjung Puting National Park is home to rare and interesting endemic species including the proboscis monkey and the false gavial, a strange-looking crocodile. But, it's the orangutan that most people come here to visit. Its sheer beauty and gentle demeanor endear one of our closest relatives to our hearts. We will have lunch on the boat then venture to the feeding station to observe those ex-captive orangutans and their descendants who choose to come to gather for their afternoon feeding. We will have dinner and overnight aboard the kelotok on the river downstream from Camp Leakey.
Our last day in Tanjung Puting National Park (day 4) will be spent on the main branch of the Sekonyer River looking for orangutans and other wildlife along the river. We will visit Pesalat, a small station along the river where we will be able to plant some trees within the Park. We will then head back to Kumai and transfer to Pangkalan Bun where we will have our dinner and overnight at a nice hotel.
On day 5, we will have a morning tour of Pangkalan Bun, a town filled with regional history, then take the flight to the provincial capital of Palangka Raya. We will check into the hotel and have a brief orientation of the city. Later we will have an evening lecture by some of OURF's partner organizations in the area.
The following day (day 6) we will explore a part of the Sebangau National Park by boat and trek in the peat swamp forest. We'll meet the staff at the field station operated by a partner organization, the Borneo Nature Foundation, and learn about the research and conservation activities at this important ecosystem. The Sebangau Ecosystem is enormous- larger than the island of Bali and home to a large population of wild orangutans and gibbons. If we are lucky, we may find a few. We will have lunch in the Park, and after returning to town we will have dinner at a local restaurant. Yoga anyone?
On day 7, We'll travel upriver to visit the orangutan islands operated by the Borneo Orangutan Survival Foundation, another partnering group. Later we will visit their education center at the famous Nyaru Menteng reintroduction center and visit other places of interest in the area. We will overnight at the hotel.
Today (day 8) we fly to East Kalimantan from Palangka Raya. First stop is Balikpapan where we will take a quick look before driving to Samarinda (about 4-hrs). Along the way, we'll observe the changing landscape of this wealthy province, which is currently making preparations to host Indonesia's new national capital, "Nusantara". We will overnight at a nice hotel in Samarinda.
From Samarinda (day 9), we'll head to the Mahakam River, which is known for being the habitat of the critically endangered Mahakam river dolphins. We'll go on a day cruise on the river, search for dolphins, and witness the busy activity on the river. Later we'll visit a traditional burial site and begin our trip to Sangatta, the gateway to Kutai National Park. Along the way, we'll stop to visit the equator monument and have lunch at a Buddhist restaurant in Botang Kuala.
The next day (day 10) we will begin our jungle trekking in Kutai National Park, home of the wild orangutans (Pongo pygmaeus morio). This darker-haired subspecies of the Bornean orangutan is the only type found in this part of East Borneo and Sabah. We'll spend the day in the forest guided by local rangers and witness orangutans make their nests for the evening before returning to our hotel.
After breakfast (day 11), we'll begin our journey overland to Berau and the Dayak village of Merasa. Along the way, we'll stop at Bukit Pelangi Hills to see the biggest coal mine in Indonesia. We'll also see palm oil plantations and witness the environmental challenges facing this developing country and its natural heritage with our own eyes. Once we arrive at Merasa, we will experience a welcoming ceremony and meet our host families, who will provide us with a homestay experience for the next two nights. During our stay, we will participate in normal Dayak life but, take excursions by motorized canoes to the orangutan islands operated by the Center for Orangutan Protection (COP) to see the orangutans and the other sights along the river.
On our last full day in East Borneo (day 13), we'll say goodbye to our Dayak hosts and visit the COP Orangutan Center to learn about the process of rehabilitating and reintroducing orangutans to the wild. Later we'll transfer to our hotel in Berau town for a final dinner and a walk around town in search of exotic fruits.
On our last day (day 14), we will fly to Balikpapan where some of us will return to Jakarta (for evening flights home) or head for Bali for a post-tour excursion. Some of us may want to stay in the Berau area and visit the Derawan Islands for some diving or snorkeling. There are options for visitors who have time to explore more of exotic Indonesia.
Your special guest hosts
You will be co-hosted by Dr. Gary and Inggriani Shapiro, a couple who know orangutans and Indonesia very well. Gary has been studying orangutans for over 49 years and Inggriani is an Indonesian who is a practitioner in the eastern healing arts, including meditation, yoga & massage therapy. Throughout the expedition, you will be given the opportunity to attend lectures on orangutans and yoga therapy sessions to engage your mind and restore your body.
Gary talks tours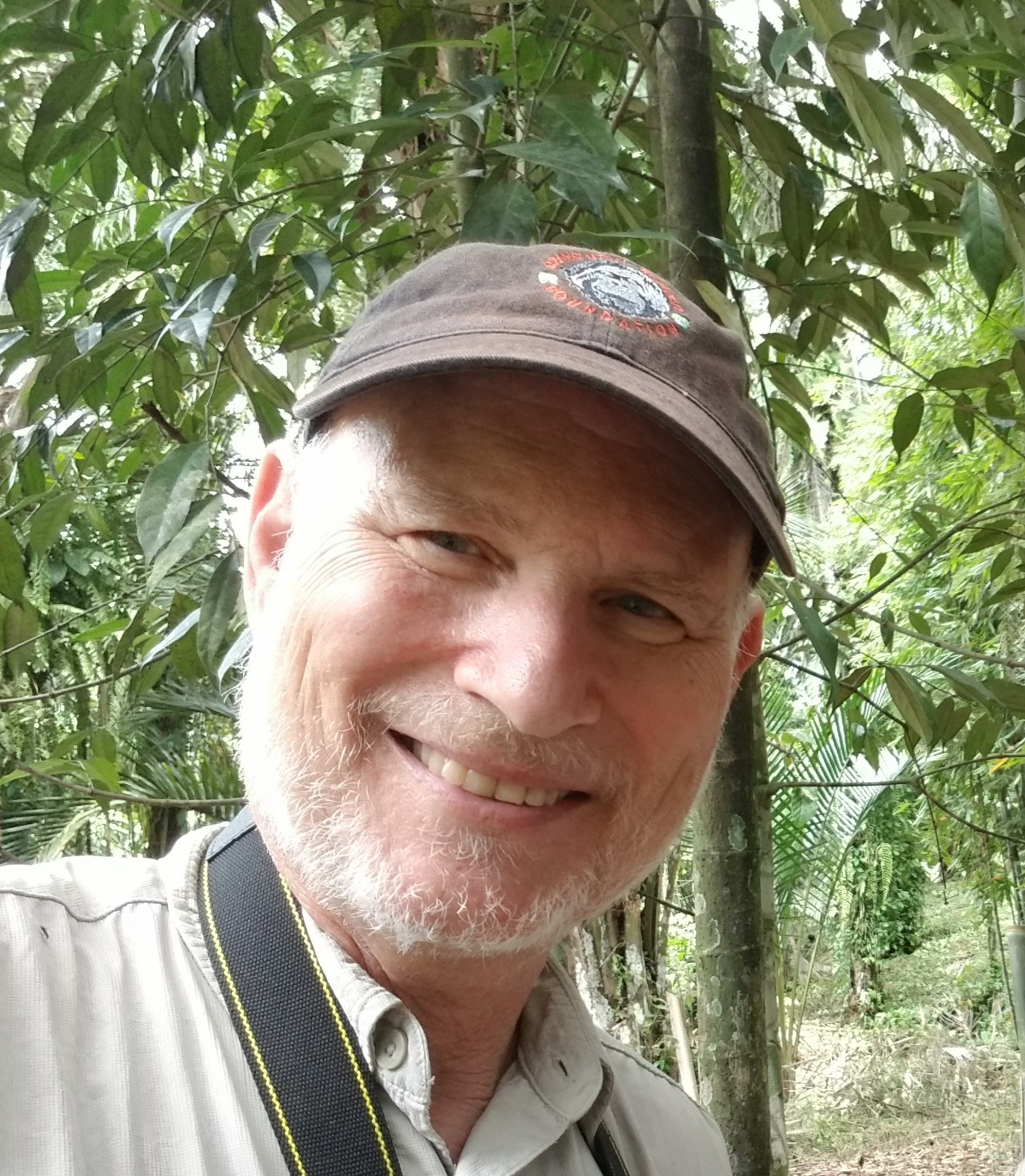 "Hello! I have now completed several Orangutan Odysseys Eco-tours to Tanjung Puting National Park. On each one, we all had a great time, learned all about the orangutan's habitat, met old orangutan friends, made new human friends, and most importantly, raised awareness and much-needed funds to help save this endangered species. In the complex world of conservation and animal behavior, it's difficult to fully grasp the realities of what we see on just a short tour. That's why I feel that the members on this tour, being able to discuss the deeper insights of conservation and behavior, will enjoy the trip so much more. Plus we will be visiting several locations, including a place I've never seen before-Kutai National Park. That will be my birthday present. The more you know about something, the more interesting it gets! With any holiday, travelers waste a lot of time getting from one place to the other, but time can fly when you have the opportunity to discuss what you've just seen and what you're about to see in a holistic and in-depth context. It would be great to have you onboard!"

Gary says "Want an enjoyable holiday, but want it to be something more? Why not see what's really going on, connect with one of the most intelligent fellow beings on the planet, meet the people working on the environmental frontlines, and become part of the solution!"
What to expect
You are embarking on an adventure to places and amongst people whose lives are very different from your own. Many aspects of life in Indonesia will seem unusual. Remember that these are often the same aspects that make an area an exotic and attractive destination. While boat expeditions are considered easy, no trek is easy - even those rated "easy" or "moderate." In addition to the physical challenges you might face, travel conditions can present unexpected obstacles, such as rough and bumpy roads and changeable weather. To prepare for this, "pack" a flexible and relaxed attitude. Bring a spirit of adventure and inquiry, a healthy sense of humor, and a willingness to encounter the unexpected, and your trip to Indonesia will be the adventure of a lifetime!