On Saturday, November 13th, The Orang Utan Republik Foundation (OURF) with the support of the Consulate General of the Republic of Indonesia (KJRI) presented the 8th Annual Pongo Environmental Awards and Benefit Gala at the newly remodeled Indonesian Consulate in Los Angeles.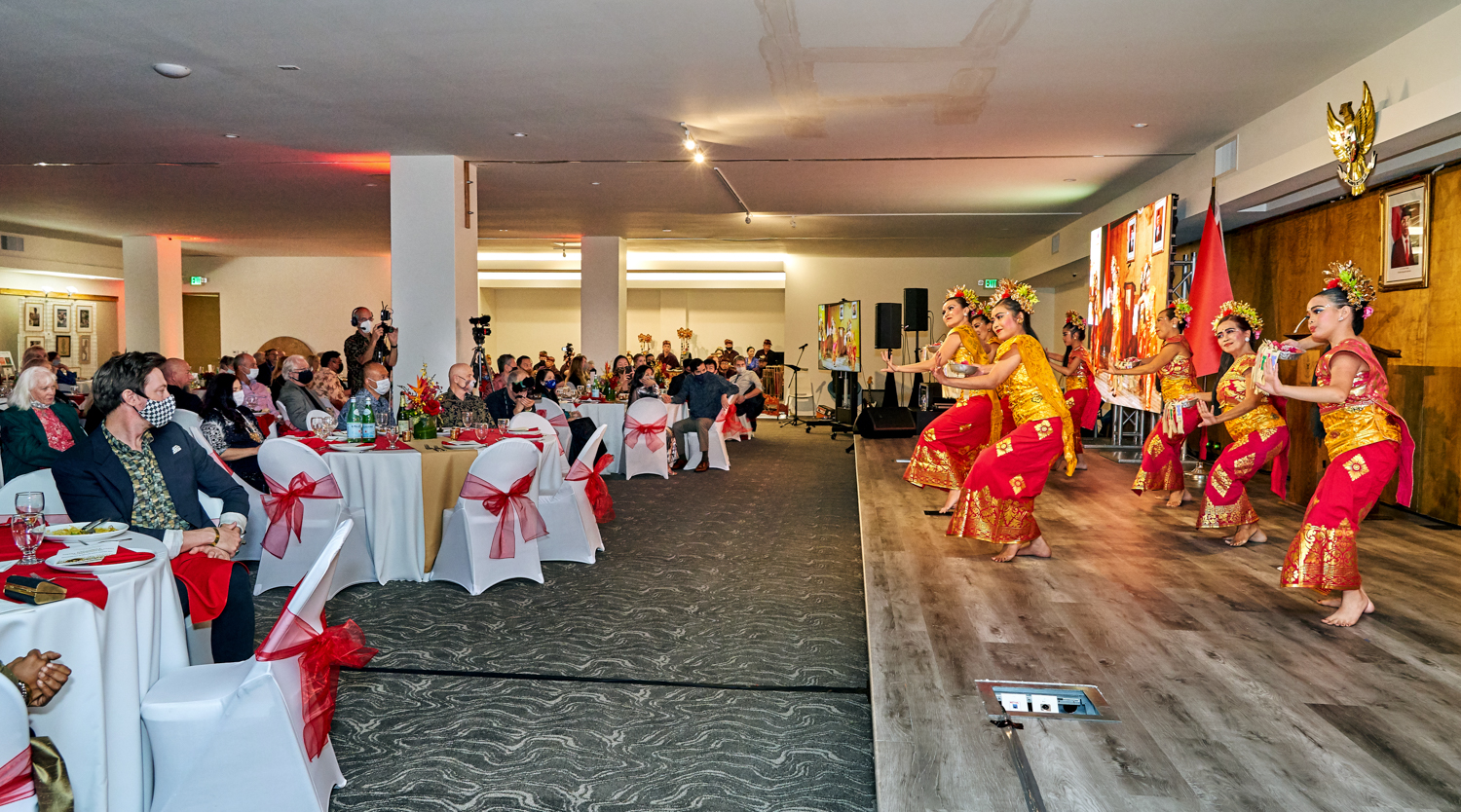 Balinese dancers entertain the attendees to the 2021 Pongo Awards Gala
The Pongo Environmental Awards, presented by the Orang Utan Republik Foundation (OURF), are given to those who have made significant contributions to protect the welfare of all living species via advocacy, leadership, public service, education, and research.
The sold-out event was Livestreamed and viewed across the globe. The benefit brought awareness to the plight of the orangutan and rainforest habitat as well as raised urgent funding to save critically endangered orangutans from extinction. The theme of the evening was "Respecting Nature: Celebrating the Biodiversity and the Beauty of Indonesia." According to OURF President and Co-Founder Dr. Shapiro. "We are delighted to be receiving the support of the Indonesian Consulate General this year to pay tribute to those who make significant achievements in conservation and environmental sustainability, particularly in Indonesia, and in celebrating the beauty of that country's rich culture." The celebration brought OURF supporters and guests together to fundraise and learn about the work of the OURF and to deepen respect, understanding, and appreciation of Indonesia, the world's largest archipelago comprising 17,000 islands.
Over 100 Gala attendees were greeted with a general reception and VIP attendees enjoyed a private reception prior to the Gala. Consul General Saud Krisnawan and OURF President, Dr. Shapiro delivered the event's opening remarks. Pak Krisnawan cited the orangutan as a national treasure and conveyed that all flora and fauna need protection. He stressed that "we all need to work together to raise awareness and educate global and local communities of the need to conserve our environment." He ended by saying that the "efforts to preserve these majestic creatures don't come from Indonesia alone, it is a global effort." He then invited all attendees to visit once the borders are open again. Dr. Shapiro then thanked all of the attendees for their support as well as the Foundation's volunteers and the incredible sponsors, special guests, and award recipients. The evening continued with guests enjoying a vegetarian Indonesian dinner accompanied by traditional and mesmerizing Balinese dancing and enchanting live Gamelan music by the Bhuana Khumala Group. One of the many highlights of the evening was a performance by Indonesian-American singer, 10-year-old Malea Emma ("American Idol") who performed two songs including an inspiring rendition of John Lennon's 'Imagine' and an original song "My Hero" which she dedicated to all of the award recipients.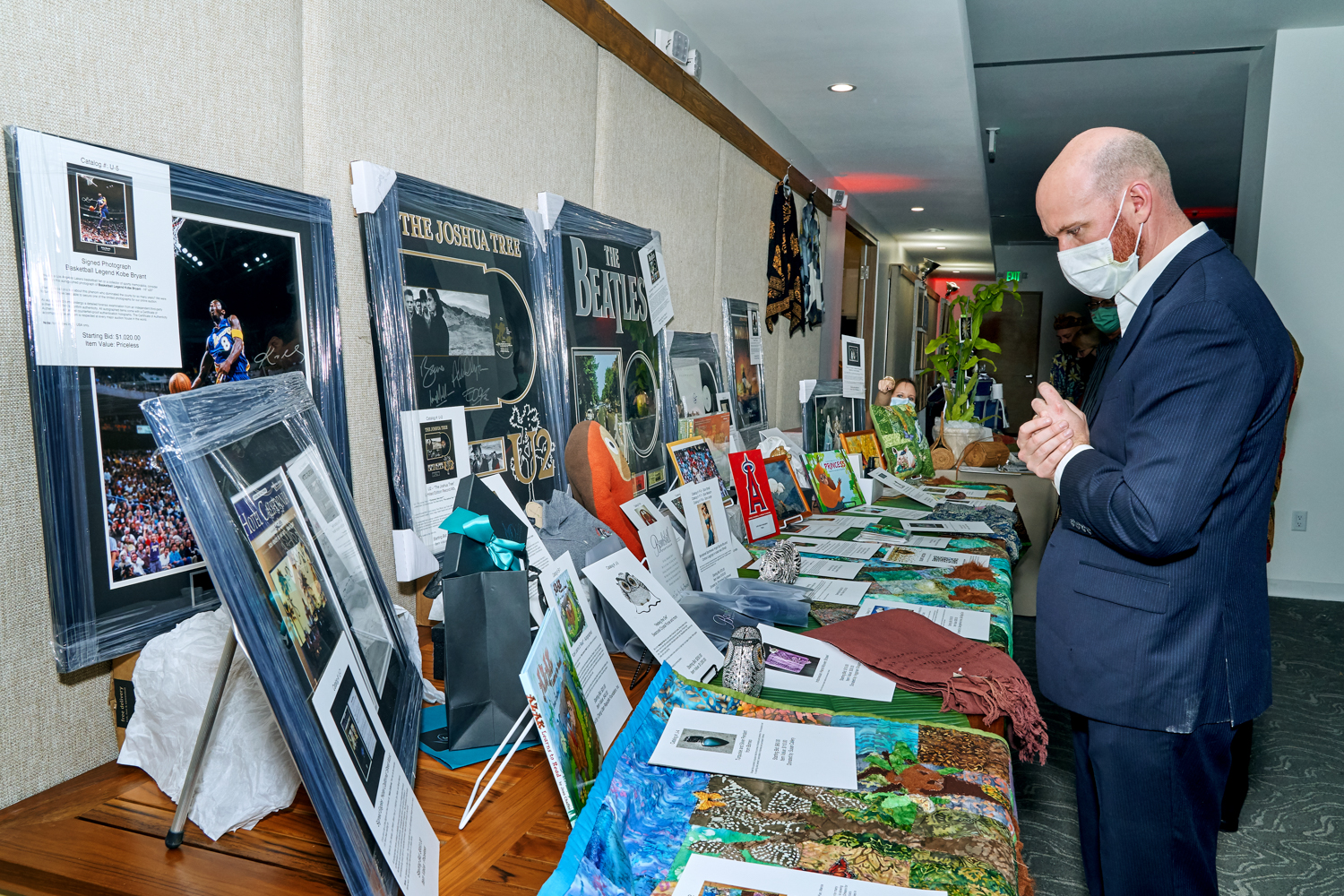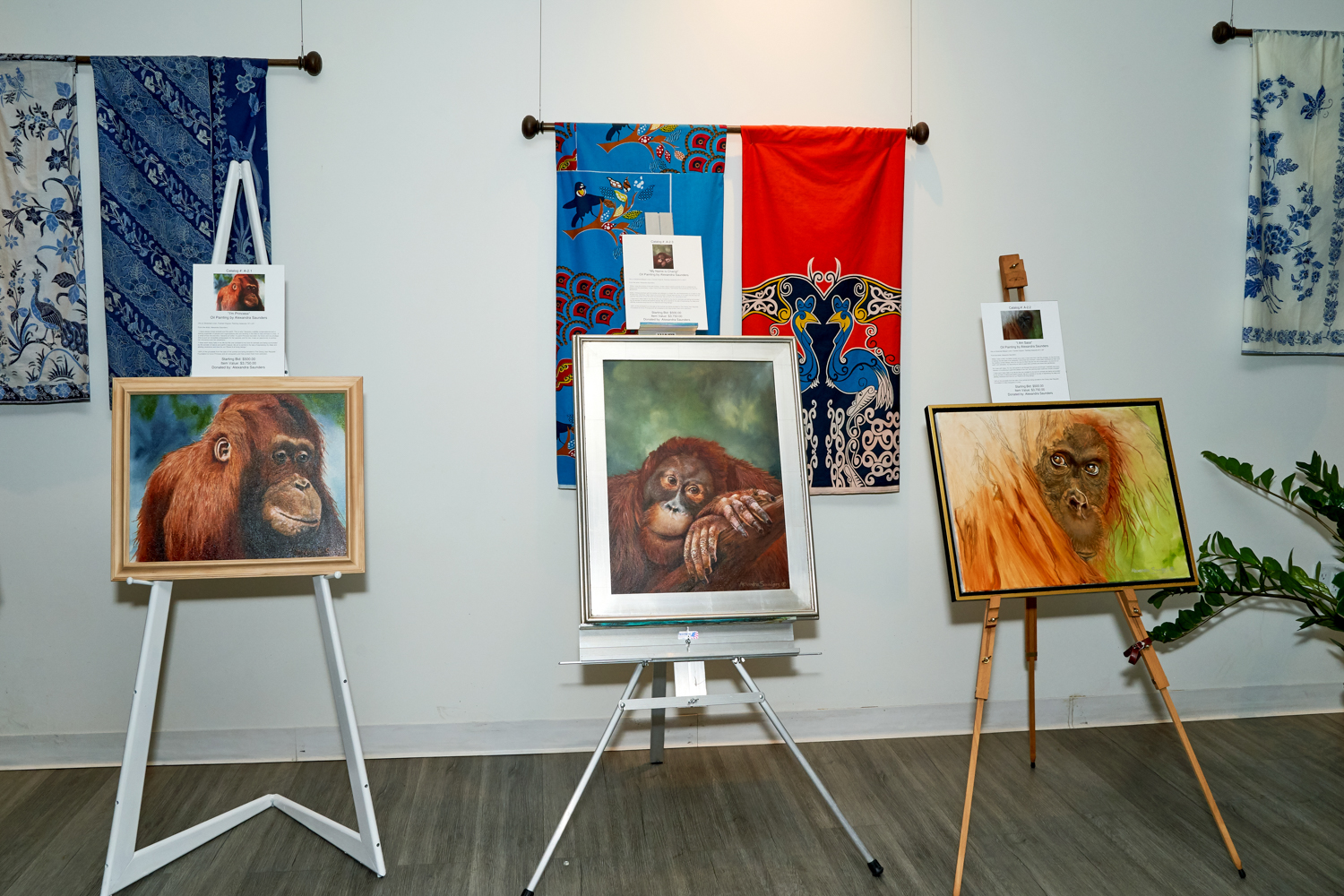 Silent auction items on display for attendees to bid on.
Throughout the evening, Gala attendees as well as online participants, bid on numerous items and experiences including stays at beautiful Bali and South African retreats, roundtrip airline tickets from Singapore Airlines from LA to Jakarta, one-of-a-kind art pieces by Alexandra Saunders and Mandy Brasa, a Beatles Abbey Road album cover signed by Paul McCartney and Ringo Starr, Kobe Bryant memorabilia and autographed guitars from Bruce Springsteen and the Eagles as well as many more.
Attendees were treated to various videos throughout the night, these included a moving Indonesian environmental recording as well as a brief look at the 32 past Pongo Environmental Award recipients including Dr. Jane Goodall, Leonardo DiCaprio Foundation, CNN's Bill Weir, Orangutan Researcher Dr. Anne Russon, and Jamartin Sihite CEO of the Bornean Orangutan Survival Foundation. Additionally, The Orangutan Project President and Founder, Leif Cocks joined the event via Livestream from Australia. Per Dr. Shapiro "OURF serves as the United States chapter of The Orangutan Project, which allows us to synergize our strengths for the common mission of saving the orangutans and their habitats." Leif Cocks is also actively engaged in addressing a much larger biodiversity challenge and oversees the International Tiger Project and the International Elephant Project.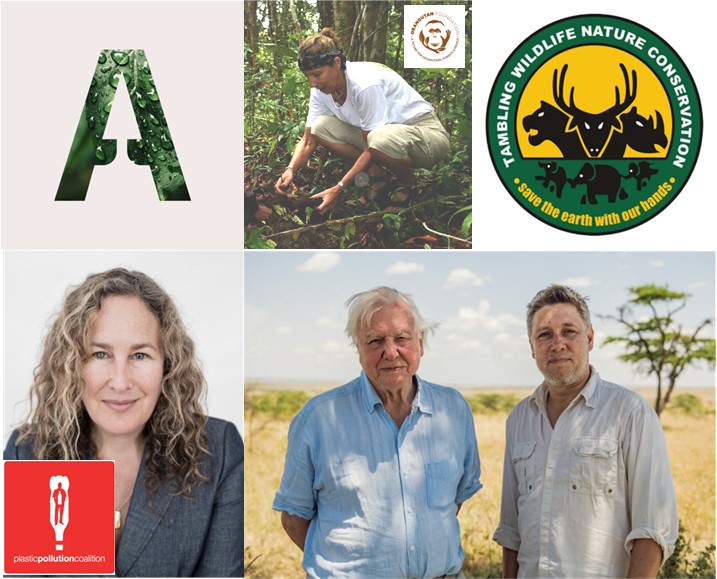 The 2021 Pongo Environmental Award recipients
During the evening's awards ceremony, Consul General Saud Krisnawan introduced the individuals and organizations who've made significant environmental achievements. The recipients of the 2021 Pongo Awards were: acclaimed environmental Director/producer/writer Jonnie Hughes and Silverback Films for their Netflix documentary "David Attenborough: A Life on Our Planet"; global environmentalist Dianna Cohen (Founder, and CEO) and Plastic Pollution Coalition for working to end plastic pollution around the world with projects in 75 countries; Aspiration Partners, Inc. for sustainable commerce and their environmental advocacy and initiatives as a B-corp green financial organization; Indonesian businessman and conservationist Tomy Winata for his stewardship of the Tambling Wildlife Nature Conservation and Sumatran Tiger protection initiatives in Sumatra; and international conservationist Ashley Leiman for her 30 years of advocacy of protecting wild orangutans in Central Borneo and founding the Orangutan Foundation UK. Recipients who could not attend in person, joined either by Livestream or pre-recorded messages.
Special guests included American actor and environmental activist and past Pongo Award recipient Ed Begley Jr. who has been involved in environmental causes for the past 51 years and presented a video by the Plastic Pollution and narrated by Jeff Bridges. Kid Conservationist and OURF Youth Ambassador, Jack Dalton, author of the new book Kawan the Orangutan, Lost in the Rainforest! spoke about the orangutan and his goal to get the orangutan off of the endangered species list and noted that "education is the first step, if we don't know about an issue, how can we help?" We were also joined by former Pongo winners Ronna Phelps and Topher White.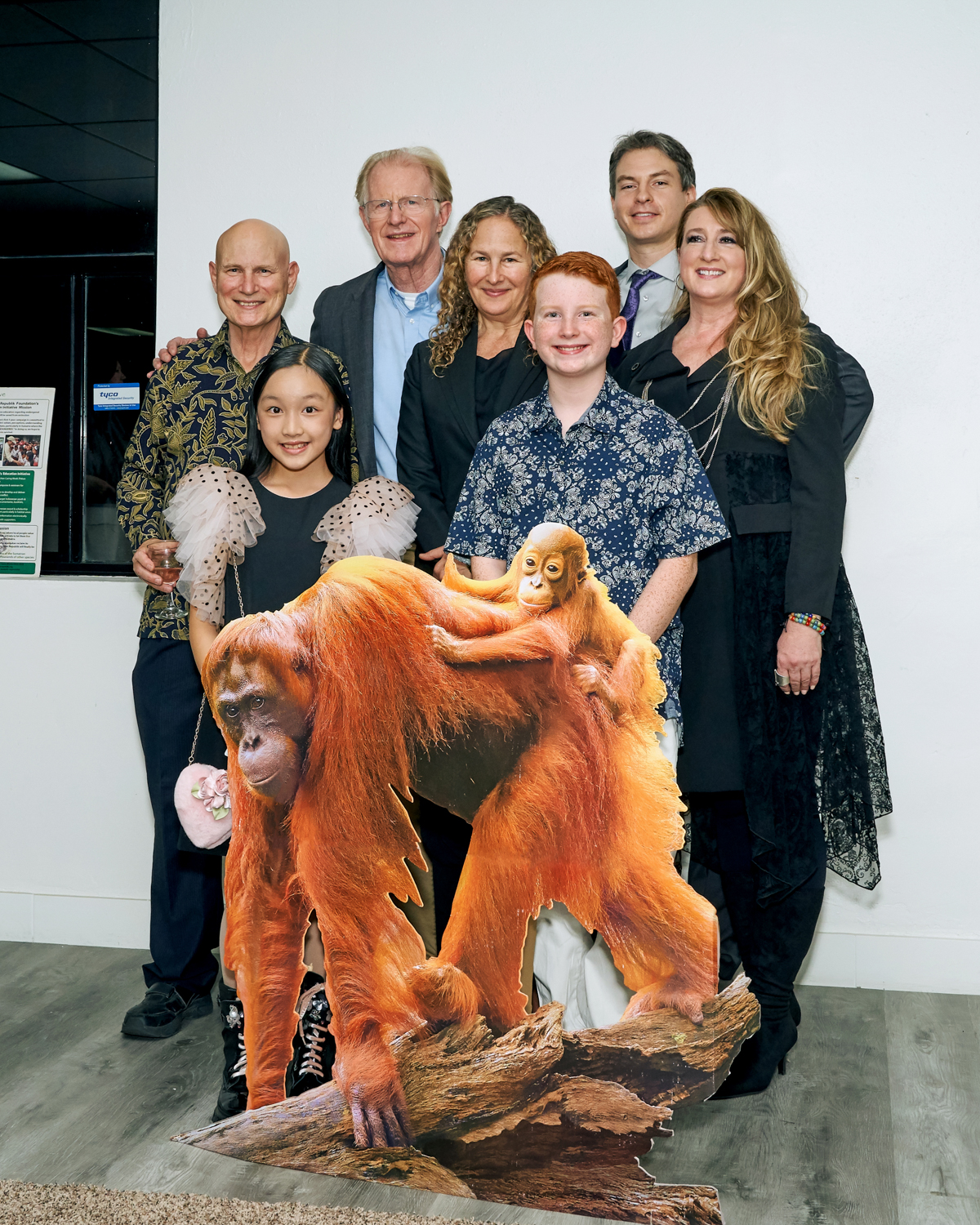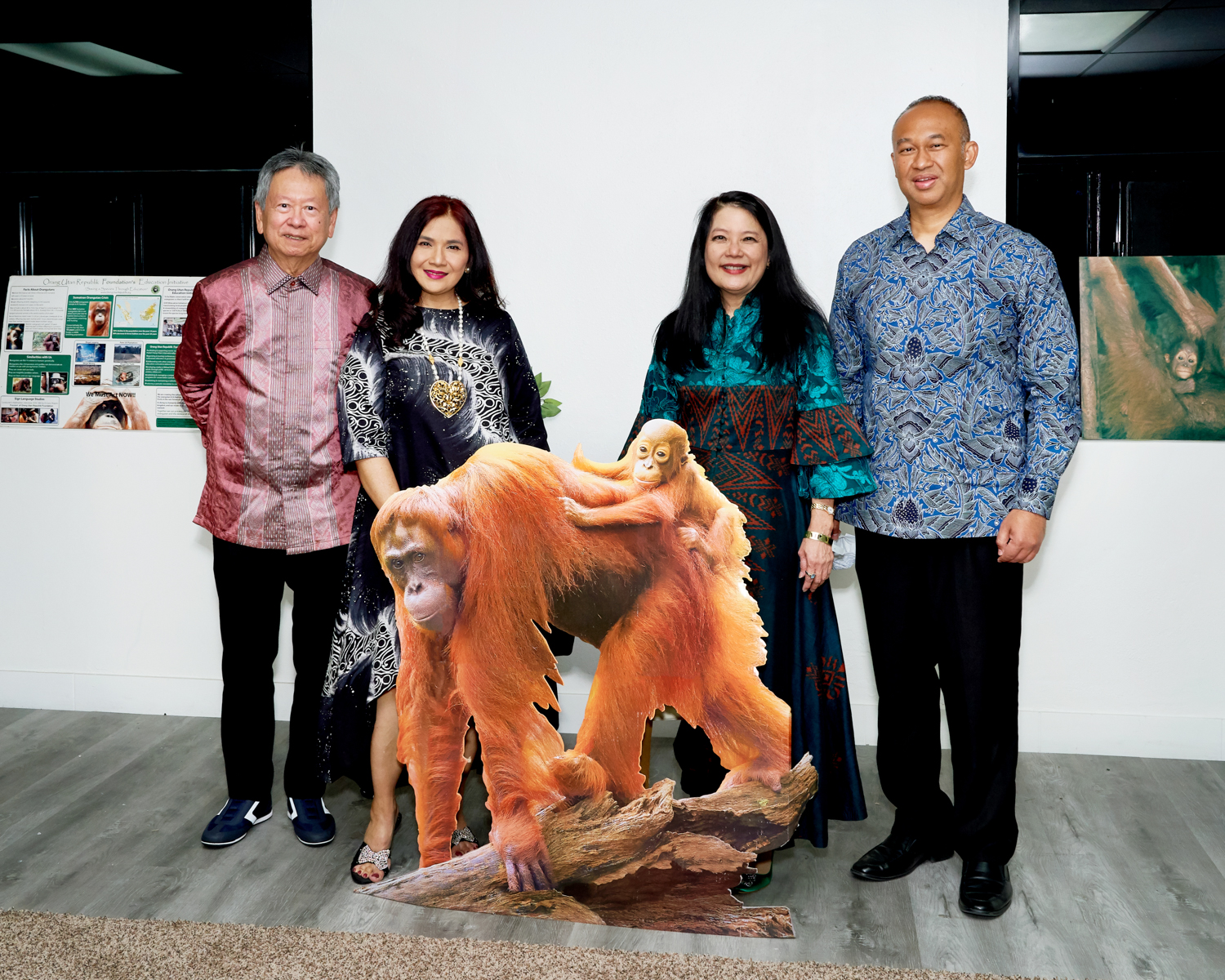 left: Gary Shapiro, Malea Emma, Ed Begley, Dianna Cohen, Jack Dalton, Topher White, and Ronna Phelps; right: Ken Gouw, Ibu Dee Krisnawan, Julia Gouw, and Consul General Saud Krisnawan.
After closing remarks, the evening concluded with an afterparty complete with a live band where guests mingled and danced the night away!
We are proud to announce that due to the generosity of attendees, sponsors, and donors, many of whom could not attend, the event raised $20,000 for the Orang Utan Republik Foundation which was celebrating its 17th year saving orangutans through education. 100% of the event proceeds support the Orangutan Caring Scholarship Program and the Community Education and Conservation Program. More about these programs can be found on our website at https://www.orangutanrepublik.org/what-we-do/ .
The 2021 Pongo Awards adhered to state and local Covid-19 guidelines and were sponsored by J&K Gouw Foundation, Indonesia Media, Singapore Airlines, Greenhagen Charitable Fund, Beneficial State Bank, PT Santos Jaya Abadi, Panomatics, Mantic, among other charitable donors. The Gala and Livestream were produced by OURF in association with What You Want Productions and Innovative Media Productions, Inc.
A replay of the event can be watched here:
https://www.youtube.com/watch?v=cOsLavJViXs&t=4931s
Photography: Stanley Bratawira