During the COVID-19 pandemic of early 2021, one of our ambitious scholarship students thrived in making a positive difference. Mega Octavia Gunawan, was busy coordinating the collaboration of The Balek Kampong Project and the West Bornean Orangutan Caring Scholarship Program (WBOCS) team. The Balek Kampong Project or " Back To The Village Project'' is WBOC's program of raising awareness within the local area by holding events showing the impact of actions conducted by local groups. It was arranged and coordinated during the Self-Capacity Building Workshop in November 2020. At this time, the Ketapang team decided the project would consist of two major parts.
In the first part, the Gecko Project's documentary, "Our Mother's Land" was screened. Immediately after the film, a discussion was held at Kekili Kopi Cafe. The aim was to engage society and increase their environmental awareness on how government matters impact local people's lives. Attended by over 60 participants, the film not only depicted environmental issues but also gender equality. It showed cultural diversity through the term "mama", or mothers as female environmental warriors in Indonesia. Another part of the project involved a training titled, Creative Environmental Campaign Through Social Media. In an effort to show others how to campaign for environmental issues effectively, the training targeted senior high school students. The concepts included interactive dialogue and sharing the implementation of a zero-waste lifestyle by providing snack supplies without any single-use plastics during training. The team also provided eco-friendly gifts for the most active participants in both activities. Such as bottles, lunch boxes, and tote bags to support their zero-waste lives.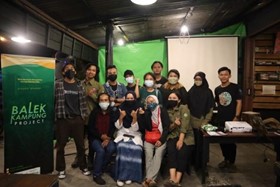 Team photo session of watching "Our Mother's Land", a documentary of the Gecko Project. The event for WBOCS recipients was supported by Yayasan Palung and Kekili Kopi Cafe on January 20, 2021.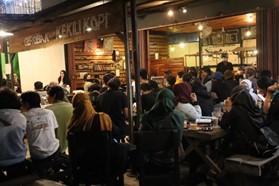 The discussion after watching the documentary included the importance of engaging society in understanding forest governance, the roles of Indonesian cultures, and the meaning of 'mama' in the documentary as a female environmental warrior.
As a multi-disciplinary approach was needed to reveal sustainable ecotourism development in her experience at Gunang Palung National Park Agency, Mega also joined the Permatasari Exchange Student Program at IPB University. She completed the Agrotourism Landscape class, the course focused on zonation landscaping and sustainable ecotourism potency development. There were a lot of details that needed to be analyzed, and this course encouraged students to divide into groups and present essays to the entire class. Their group presented Kanekes Village Potential In Agrotourism Landscape Development To Improve The Economy of Baduy Community. The outline of this topic concluded that the consistency of Baduy's local wisdom is key to sustainable tourism coinciding with their supportive geography. It means the indigenous people have substantial roles in nature protection by using and sharing indigenous knowledge.

Mega completed her internship, between July and August of 2021 at Cabang Panti Research Station. The station is managed by Gunung Palung National Park Agency and partnered with Yayasan Palung, in order to conserve orangutans through research. During the internship, Mega learned to collect data on orangutans by using a non-invasive method that supports collecting data on keeping orangutans purely wild. Some of the data collected from wild orangutans included samples of fecal, urine, food, behavior, food plant orangutan's phenology, and many more. This research with orangutans has contributed to the discovery of sustainable impacts that influence the future of the forest, health, and local economy. This will be highly important for years to come. Living in the middle of the forest for one month, assisted Mega in gaining plentiful natural resource preferences for her creation of infographics that are still in progress.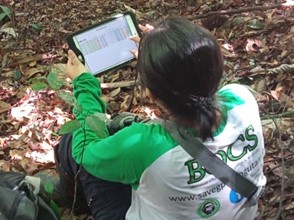 Mega follows a male orangutan during the fruiting season with a field assistant. She gathers behavioral data until the orangutan makes his night nest.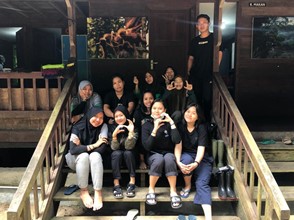 After completing her internship at Cabang Pantai Research Station in Gunung Palung National Park, Mega poses with others at the station.
To follow her belief that community-based ideas are best able to influence people wider, she sought to improve her passion for visual communication. By finishing her most recent internship, as an illustrator in Sustain The Nation. This was completed directly after the university's internship. This youth organization supports interactive discussions and creates direct content based on conservations held locally. It aims to inspire, empower, and increase people's awareness. Focusing not only on social, but also the environmental and economic contributions. One of the topics created was an idea called "The Devil of Climate". Based on the impact of zero-waste lifestyle issues with climate change, the rates of forest management governance were lowered by high deforestation rates.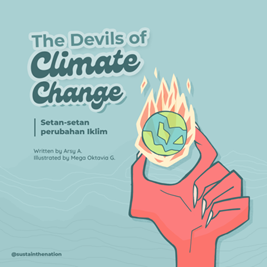 An environmental graphic design illustrated by Mega regarding climate change was posted @sustainthenation on Instagram dated September 9, 2021.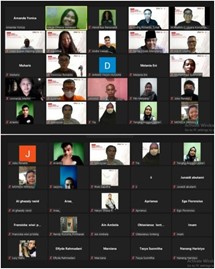 A talk show held by Suara Konservasi Kalbar on August 25, 2021, invited speakers to discuss habitat restoration with the participants.
Besides the internship agendas, Mega volunteered in Suara Konservasi Kalbar. As a designer and content writer for the environment. Recently, the team produced a World Orangutan Day Talk Show. One of the topics discussed the role importance of multi-counterparts in natural resources protection for our future. The show primarily discussed habitat restoration. This is essential in keeping orangutans wild while providing food and a home.
Mega also submitted her artwork in several competitions, in order to maximize her time. One is an infographic, titled "Why Primate Matters?". This explained primate roles in the culture, ecology, and fauna model. Due to their roles, primates should be conserved in several ways from threats. The main threats are caused by agriculture (76%), illegal logging (60%), farming livestock (31%), infrastructure habitat fragmentation (13%), mining, and others (2%). The conservation management could be more effective with less deforestation, allocate primates to protected forest areas, prevent illegal hunting, and decrease the dynamic of land-use change in primate habitat.
Mega believed this journey in academic and group activities was inspiring. While exploring opportunities and growing involvement with peers in the orangutan conservation. The above research was beneficial in the knowledge of nature loss prevention. To make all this happen, the support came from this scholarship. Thank you very much to all funders who never stop protecting our nature through this program, earth warriors!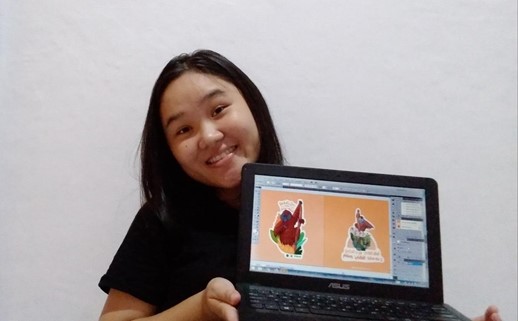 Mega showing the sticker she designed to celebrate World Orangutan Day 2021.
--------------
The article was edited by Nemily Handayani Gaston