Actions You Can Take Today - by Jack Dalton, Kid Conservationist and OURF Youth Ambassador
All three species of orangutans are critically endangered, in large part due to humans and their actions. Humans harm orangutans in a variety of ways, including deforestation, mining, the illegal pet trade, and others. Luckily, there are also many humans working towards a better future for these amazing apes and combating these harmful actions. Today I want to share with you the story of two very special orangutans, Kopral and Shelton, who were both severely affected by humans, so severe, in fact, that neither of them can be released back into the wild.
When Kopral, an incredibly resilient orangutan, was young, he was taken by a human and forced to be a pet. One day, Kopral attempted to escape his owner and ended up climbing an electrical pole. While climbing, he grabbed onto live wires and was electrocuted. His owner was certain Kopral would die from his injuries, so he brought him to Borneo Orangutan Survival's rehabilitation center in Indonesia, Samboja Lestari, where the vets saved his life. Though unfortunately, they were forced to amputate both of his arms. Kopral still resides at Samboja Lestari to this day, and now lives on an island on the property.
Shelton, a curious orangutan, suffered bad treatment from humans as well. After wandering into a village looking for food, he was shot, beaten and left in the forest alone, where he almost died. Shelton suffered trauma, both physically and mentally from this, including losing his eyesight. This made the rehabilitation at Samboja Lestari rehabilitation center difficult, and he too will never be able to be released back into the wild due to his injuries. Shelton is still at Samboja Lestari, where the team takes good care of him.
These two orangutans have something in common; they both fell victim to human's harmful actions. What happened to them is devastating, and many orangutans who need rehabilitation in Borneo and Sumatra have been harmed by human actions, both directly and indirectly. Fortunately, there are many people working to protect orangutans, including those who help with the care for orangutans such as Kopral and Shelton.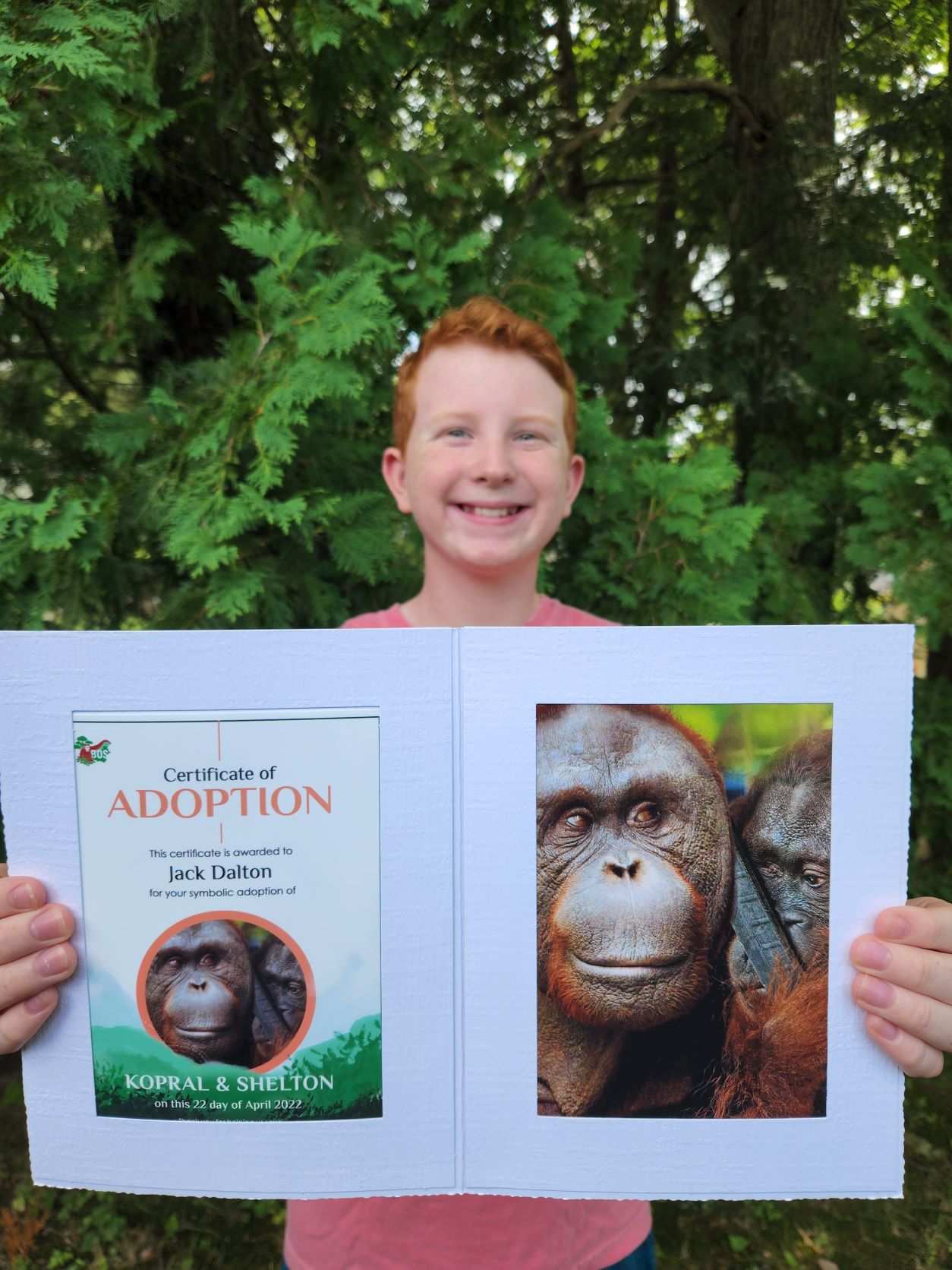 My favorite part about helping orangutans is that you don't even have to be in Indonesia to protect them! One of the best ways to help them is through adoption kits, which is where you donate money and "adopt" an orangutan, which helps to pay for their care and feedings. In this article you read the stories of Kopral and Shelton, who I have "adopted" through Borneo Orangutan Survival USA (https://borneoorangutansurvival.org/adoption/).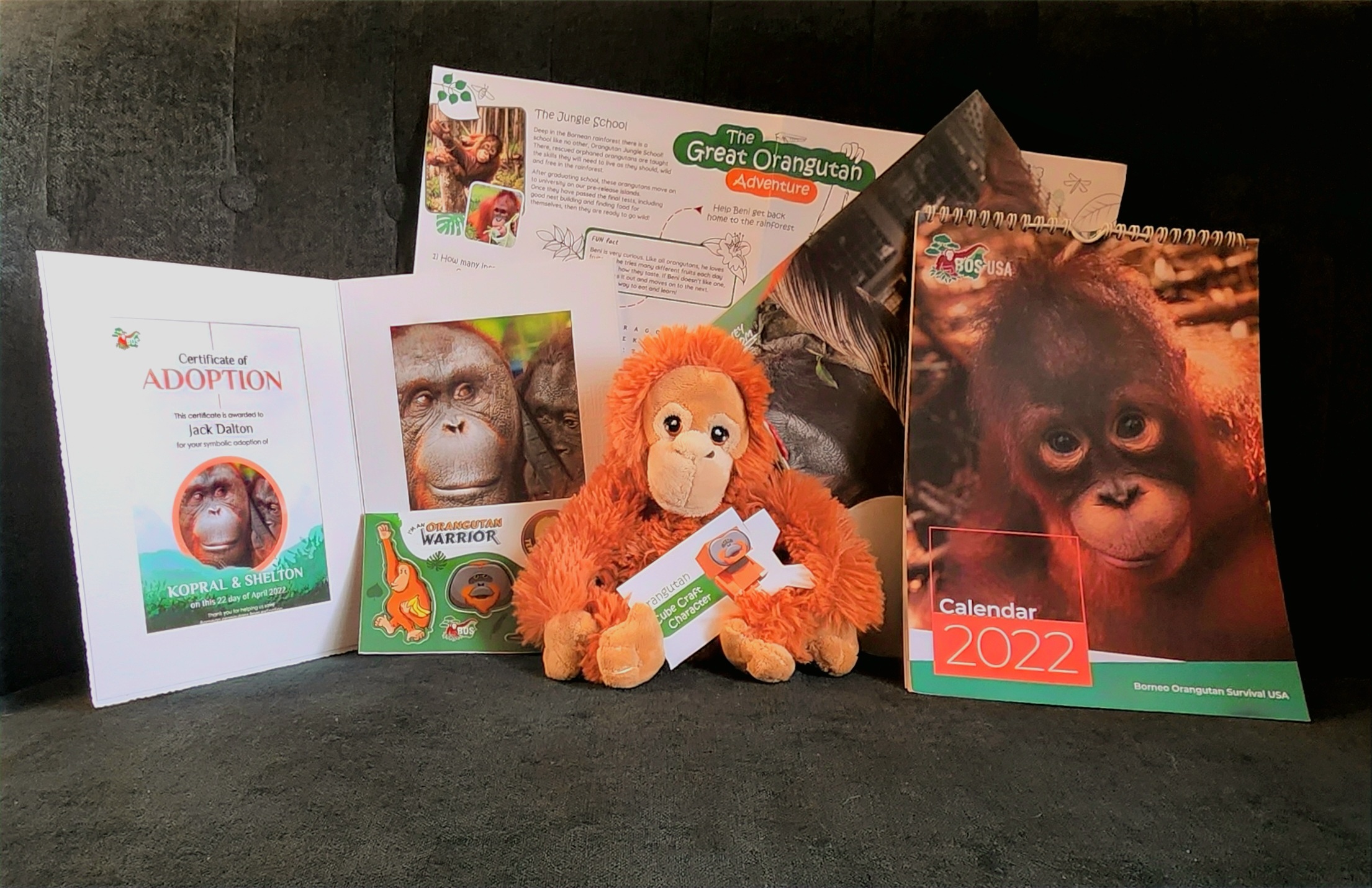 BOS offers adoption kits for eight different orangutans, including Kopral and Shelton. In return for providing them care, you get a range of items to make you fall in love with them even more, including a symbolic adoption certificate, facts and email updates about your "adopted" orangutan, pictures, a stuffed orangutan, and more.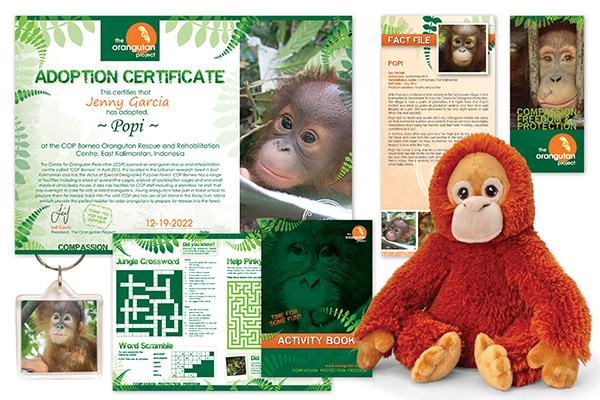 The Orangutan Project (https://www.theorangutanproject.org/all-adoptees/) also offers adoption kits for six uniquely amazing orangutans. Both TOP and BOS are working on the ground to protect orangutans like Kopral and Shelton. Without them, many orangutans may not be alive, and thriving today. We can help support these inspirational organizations, as well as the special orangutans who deserve to live wild, healthy lives.