While park rangers in Indonesia are racing to stem the tide of illegal logging and wildlife trafficking, the forests are vast and resources are limited. To meet the scope of the problem, they've reached out to the Orang Utan Republik Foundation (OURF) for help. Under a 2018 agreement with park officials, OURF is now developing a Monitoring and Investigation Unit (MIU) that will support enforcement activities in Gunung Leuser National Park in North Sumatra.
The new unit will expand OURF's Mobile Education and Conservation Unit (MECU) program, which originally launched with the mission of reducing conflict between wildlife such as orangutans and siamangs and local people. Now, program staff will also be involved in boots-on-the-ground monitoring and patrols. They'll also be adding a new set of tools to their arsenal in the fight to save the orangutan.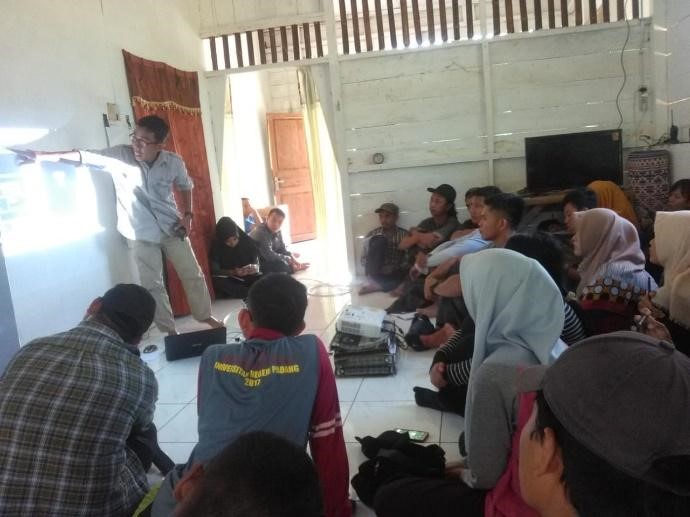 YPOI volunteers participate in training about land navigation and using GPS.
One example is SMART (Spatial Monitoring and Reporting Tool), a mobile app for rangers that documents patrols and signs of illegal activity. Program volunteers learned how to use the app through training provided by the Wildlife Conservation Society (WCS), which led the effort to create SMART back in the early 2000s. "What SMART does is help the park managers know that they are going to the places of greatest need," WCS strategic technology head Jonathan Palmer told Wired. The software is currently in use in more than 600 sites across 55 countries.
Volunteers also trained in wilderness navigation, implementing regional patrols, and using camera traps to capture photos of wildlife activities with the Orangutan Information Center (OIC) at Pantai Buaya in Besitang District.
Volunteers learn how to implement technical area patrols.
The unit will be operated by the Orangutan Caring Foundation of Indonesia (YPOI) with funding administered by OURF.
"Moving into monitoring and investigation by the Orangutan Caring Foundation staff is a natural and logical continuation of the MECU program. The trust built with local villagers over the past eight years can help provide valuable insight into informal trading of wildlife in and around the rural communities," OURF Director Dr. Gary Shapiro says.
"Giving the Foundation staff opportunities to do 'boot-on-the-ground' conservation will expand their portfolio of activities that will improve the long-term survival of orangutans and other wildlife."