OURF has always encouraged the formation of Indonesian-led environmental education organizations as the responsibility of and the future of Indonesian ecosystems sustainability belongs to the Indonesian people. For over 10 years, OURF has supported the formation and operation of the Orangutan Caring Foundation (YPOI) and its Mobile Education and Conservation Unit (MECU). Through MECU, the educators and conservationists of YPOI have provided much-needed education and training to villagers and farmers with the intent of not only reducing human-wildlife conflict but improving villagers' livelihood. This, in turn, has also improved the outlook for orangutans in the Bukit Lawang area because as the villagers embrace the conservation ideals there are fewer conflicts with wildlife.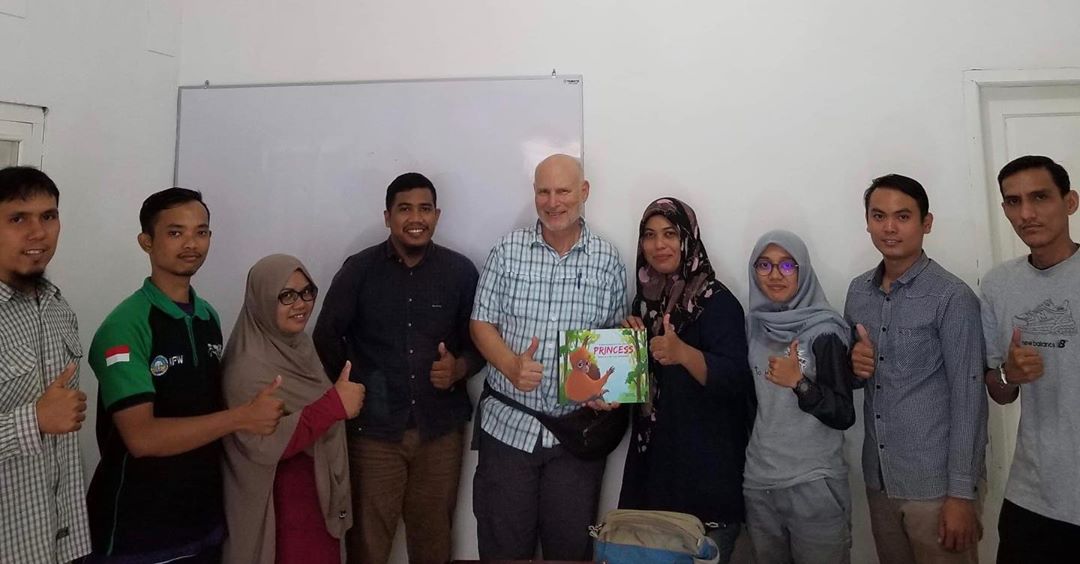 Dr. Gary Shapiro, Co-Founder of the Orang Utan Republik Foundation (OURF) and Co-author of "Princess", presented the book to conservation educators at the new Sustainable Green Sumatra Foundation (Yayasan Sumatra Hijau Lester or YSHL).
As YPOI has matured, they have asserted their independence and have decided to seek funding from other sources. Accordingly, OURF with its own limited resources has formed a partnership with a new organization called the Sustainable Green Sumatra Foundation (YSHL) comprised of former managers and staff of YPOI. Their mission will be similar to that of YPOI and will operate a new Community Education and Conservation Program (CECP). YSHL is in the formative stage but plans to begin operations during the last quarter of 2019. OURF will provide advice and encourage YSHL to seek diverse funding rather than depend upon the philanthropy of OURF exclusively. Over time, OURF expects that YSHL will build its capacity to a point where OURF will be able to provide seed funding and support to new organizations in other parts of Indonesia where orangutans and wildlife remain in need of more local advocacy.