14 July 2021 - Santa Monica, CA. In May and June 2021, twelve students attending three different universities on Indonesian Borneo received a special multi-year award enabling their tuition to be paid through the Orang Utan Republik Foundation's Orangutan Caring Scholarship (OCS) program. An additional twelve students attending universities in North Sumatra and Aceh will be receiving similar scholarships in August.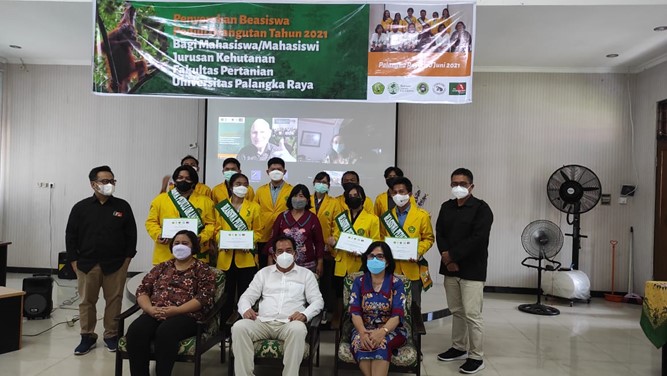 Ceremonial photo of Central Borneo OCS recipients (holding certificates) at Palangka Raya University
The OCS is a collaboration between OURF and four Indonesian implementing organizations: the Orangutan Information Center (OIC) on Sumatra, Yayasan Palung (YP) in West Kalimantan (Indonesian Borneo), the Borneo Nature Foundation (BNF) in Central Kalimantan, and the Center for Orangutan Protection (COP) in East Kalimantan.
The purpose of the program is to award tuition funding to talented and needy Indonesian students on a competitive basis, enabling them to attend university in the fields of forestry, biology, and veterinary science. In addition to being able to attend university, scholarship recipients develop an understanding of the plight of the orangutan from the perspective of the nongovernmental organization. They graduate as advocates of orangutan conservation when entering the private, nonprofit, or government workforce.
The collaboration between OURF, OIC, YP, BNF, and COP has enabled this program to expand to cover all orangutan range provinces since awarding its first scholarship in 2006. OURF raises and provides the funding and OIC, YP, BNF, and COP administer the actual competition through outreach to schools. They also evaluate submitted proposals, oversee the selection process, and manage the disbursement of funds to the recipients.
The OCS is open to Indonesian students in North Sumatra, Aceh, and West, Central, and East Kalimantan seeking tuition funds for degrees in the natural sciences. Successful recipients are expected to work with local NGOs to learn about the orangutan and its plight, and to help present the information to students in local schools.
In 2021, OURF was able to award 24 new scholarships bringing the total number given to 216. At this writing, 118 students have graduated with many finding employment in the nonprofit sector as well as government and academia.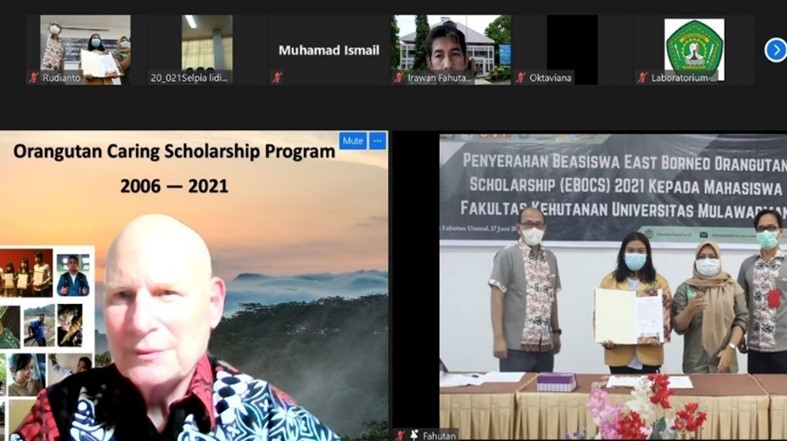 Screenshot of ceremonies with one of the East Borneo OCS recipients (holding certificate) at Mulawarman University
OURF President Dr. Gary Shapiro was unable to attend the awards ceremonies in person because of Covid-19. However, through Zoom, he was able to participate and help make the presentations to the students who received the multi-year awards. "We see this as an important investment in the future of Indonesian conservation and in an educated workforce that benefits the local communities and the nation as a whole," Shapiro said. Individuals and organizations are invited to support this program by donating at OURF's website to the Sponsor-a-Student program or the Orangutan Caring Scholarship Appeal.