Santa Monica, CA - The Orang Utan Republik Foundation (OURF) announced the winning entries of a graphic art and video clip contest held as a prelude to Orangutan Caring Week (13-19 November 2022). Promoted through OURF's social media platforms, the contest ran from 1 October to 1 November and was open to graphic art and digital creatives from around the world. Cash prizes were offered for the top three entries in each category. Artists were asked to address this year's Orangutan Caring Week (OCW) theme in their work, "Orangutan Superheroes Don't Wear Capes."
The entries were judged by a panel of artists enthusiasts including conservation wildlife artist Alexandra Saunders, watercolor artist Mary Lou Nicolai, and art curator Harvey Jordan. Criteria used to evaluate each entry included relevance to the theme, visual effectiveness/overall appearance, originality, and the message of the work.
The top-winning graphic artist, Tanuj Samaddar, from India, submitted a collage of concepts addressing this year's theme in his artwork.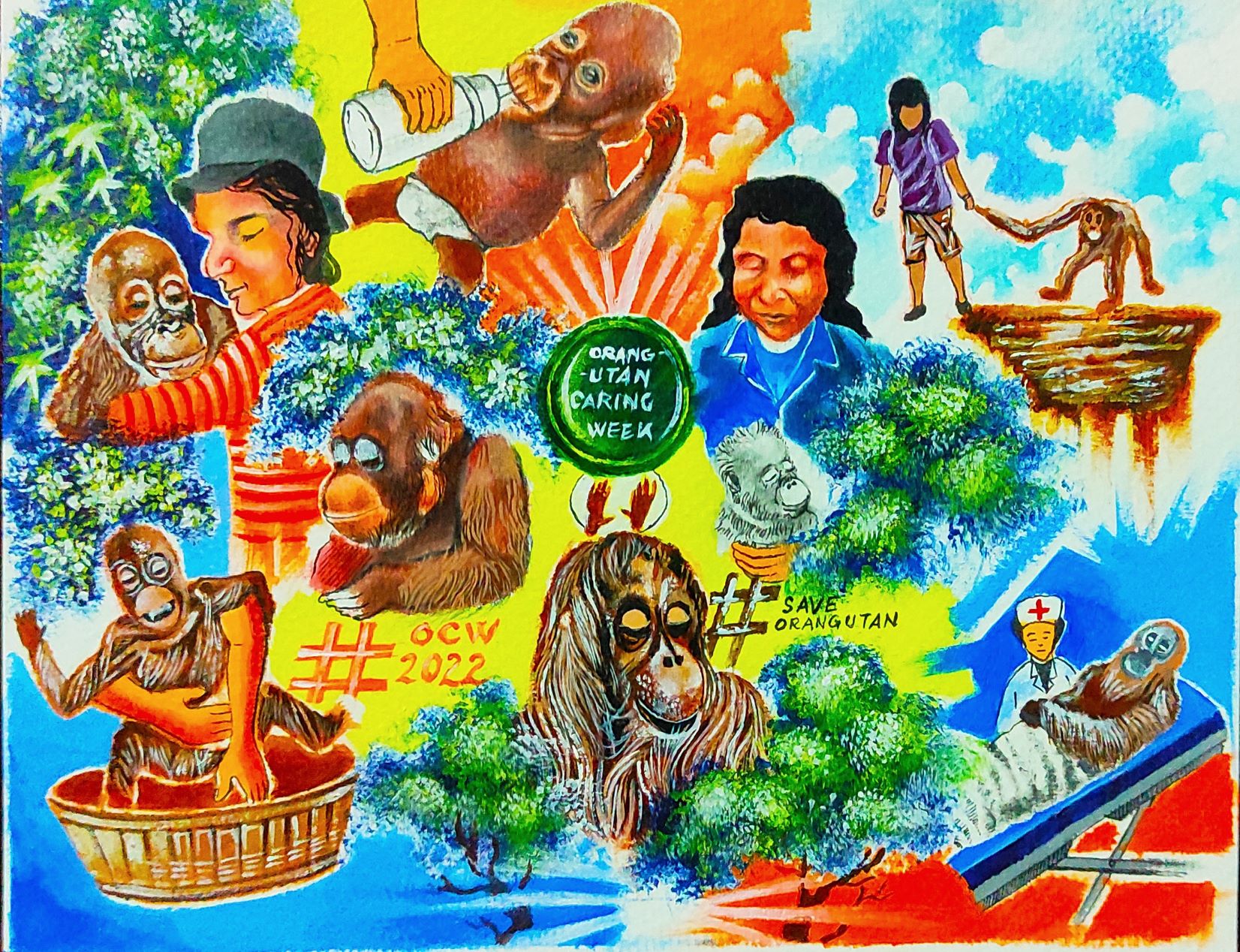 Tanuj explains in his message, "In the given artwork I've portrayed the unsung heroes who play an important role in ensuring the survival of orangutans. The forest rangers and wildlife experts and veterinarians have found a place in my artwork. Plenty of actions could be taken to save orangutans including but not limited to donations to wildlife charities etc. Our actions should embody sustainability and commitment to our goal of conserving orangutans. My artwork is dedicated to those heroes without capes who tirelessly work to care for, protect and save the orangutan population."
Second place in the graphic art category was won by Patricia Gabe Ratum from Indonesia. Patricia's skills as an artist and video clip creator earned her 2nd place in the video contest as well. For her graphic art entry, she also produced a collage of concepts that addressed the theme.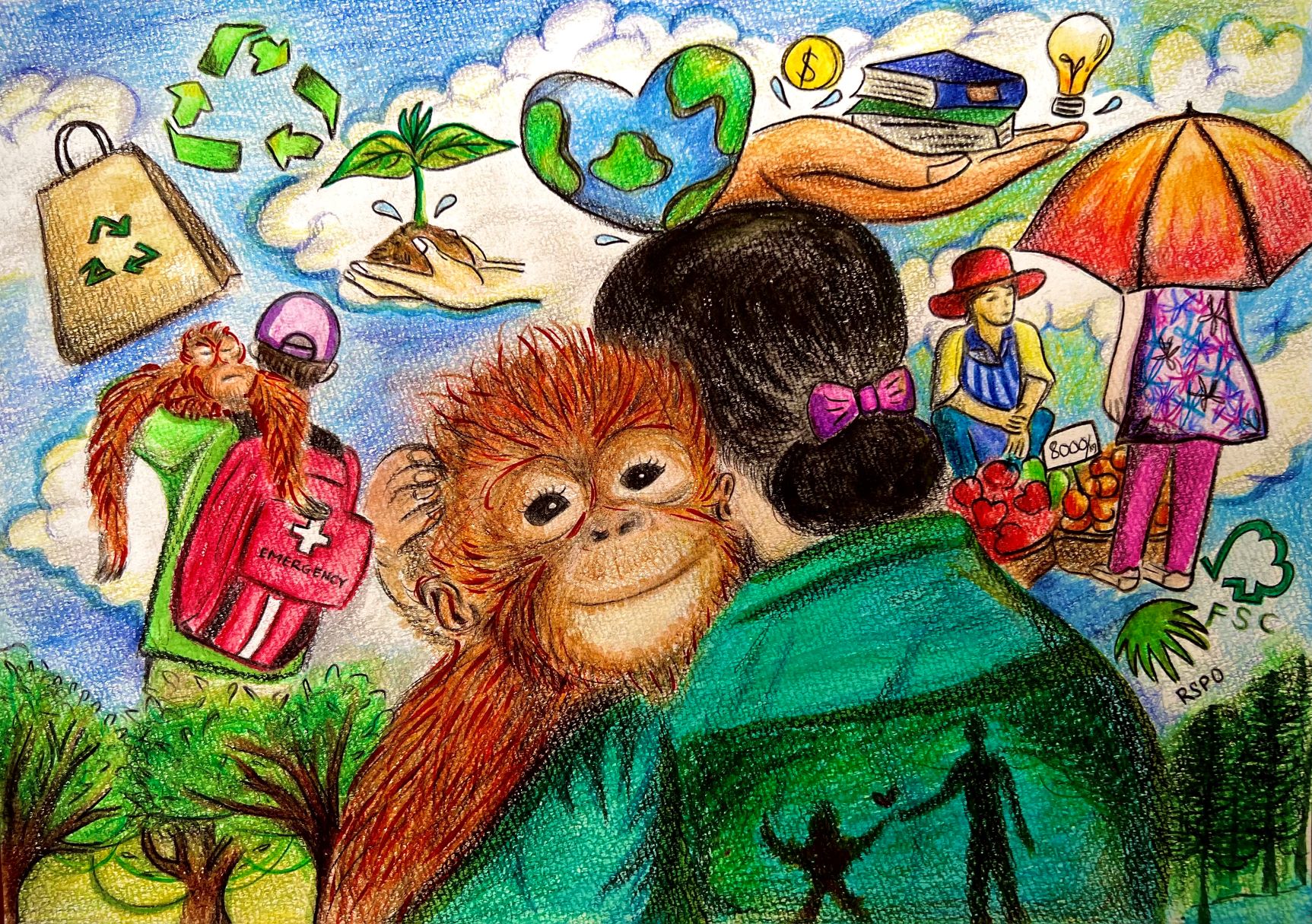 Patricia provided the following message about the items in her work, "Everybody has their role to contribute in preserving orangutans and forests. Preserving them means preserving life. Little deeds matter such as having a sustainable living. We can also educate ourselves about our ecosystem and donate to orangutan activism. When shopping, look for the RSPO and FSC stamps to make sure that the product doesn't harm the forest and its endemics. We can do more local shopping. It helps the local economy and it has a lower carbon footprint. Speak up about nature conservation and the relevant policies. No capes are needed to be their heroes. It starts with each of us!"
The third place for graphic art was awarded to Mahdiyyah Ardhina from Indonesia. Her art features a scene of children being educated about orangutans and tree planting while an orangutan mother and baby watch from the tree top.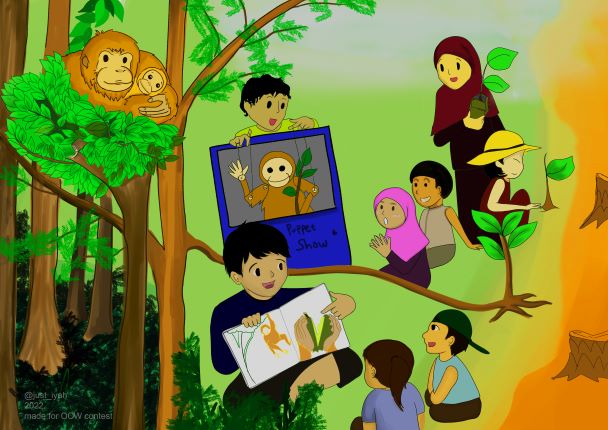 Mahdiyyah commented about her artwork, "My work tells us that protecting orangutans and their habitat does not have to be in full uniform and armed to ward off conservation criminals. Maybe the criminals did not know that what they were doing was wrong because they had not been educated in conservation as children. We can keep orangutans in our minds, transmitting stories with simple materials so that conservation ideas can penetrate into children's minds. That way the younger generation can grow and take control of the world with an awareness of the balance of ecosystems and protection of biodiversity. It's time for those of us who are aware and knowledgeable to continue to spread positive messages as a step to bring up the superhero soul without having to have super powers."
Video Clip winners
Our video artists were given 30 seconds to tell their message. Most of the submissions addressed the OCW theme to the satisfaction of the judges.
First place was awarded to Dita Shofatul Habibah from Indonesia. Dita's video can be viewed on OURF's YouTube channel. In her short but effective video, she shows how everyone can be educators to teach children, teenagers, and adults about orangutans and their plight.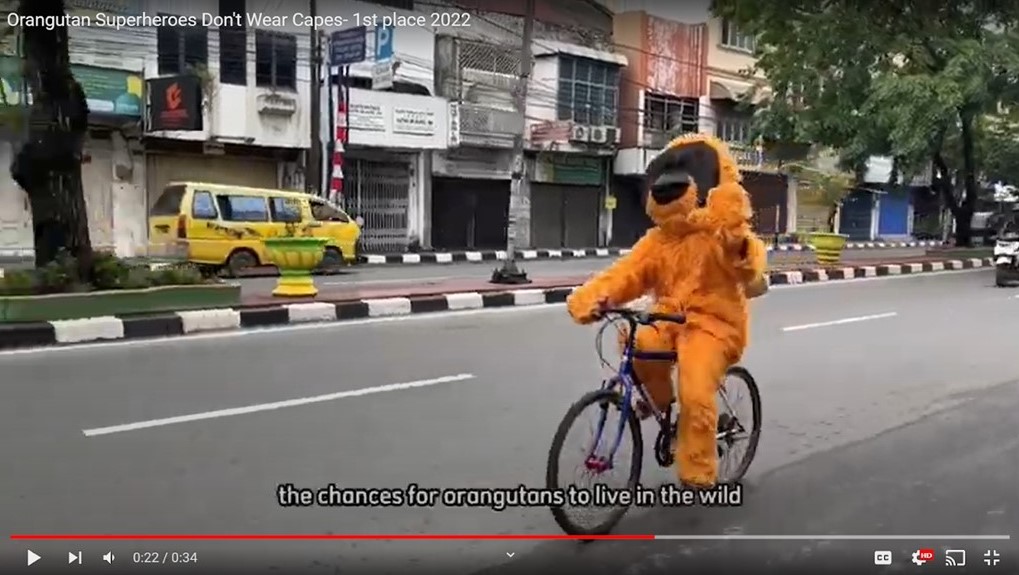 Dita's message, "Being a hero for orangutans is not difficult, everyone has the same opportunity to be a hero for orangutans. Starting from small things such as sharing experiences and knowledge about Orangutans with everyone, from children to adults. Everyone can take the opportunity to be a hero for orangutans, with the little things we do, no matter how small will definitely have a good impact on the sustainability of Orangutans in the future".
Second place in the video clip category went to Patricia Gabe Ratu who also won 2nd place for graphic art. Patricia's video entry called attention to the indigenous peoples of Borneo who are the stewards of the forest and real superheroes without capes. You can view her video clip on OURF's YouTube channel.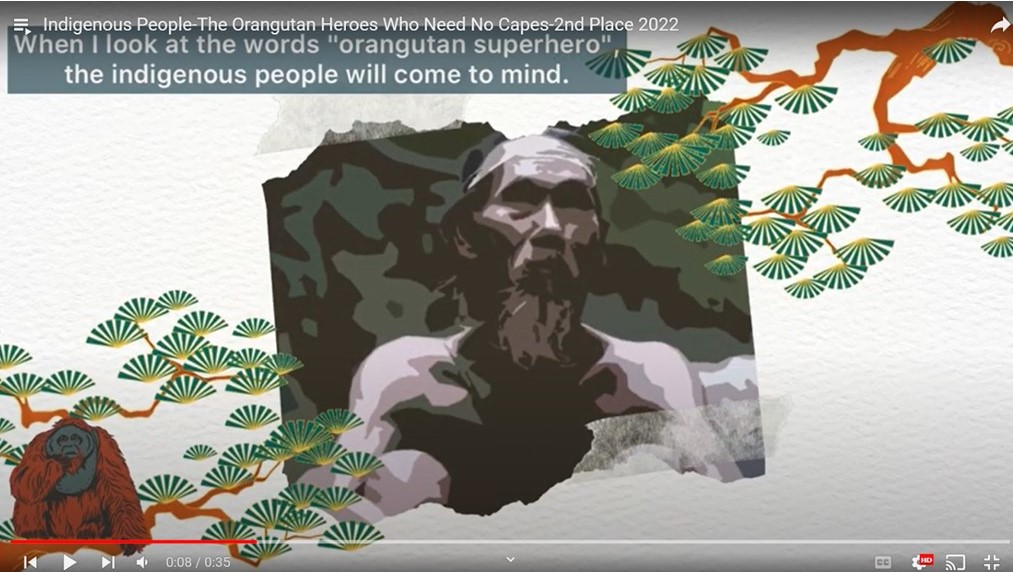 Patricia's accompanying message with her video states, "The indigenous people have been living in harmony with nature for decades. They respect the forests as their home, a gift from their ancestors. They're committed to protecting the plants and the animals inside. So they take from the forest just as little as their daily needs, they even make rules among their tribes and take a stand against companies so nobody overexploits the forest. For me, they are the real stewards of the land, rainforest, and animals including the orangutans, our real heroes who need no capes."
Third place in the video category went to Ahmad Fauzi Daulay, also from Indonesia for his submission, "Orangutan the Guardians of the Forest.". The judges liked the message of this video that put the orangutan as the superhero. You can view Ahmad's video clip on OURF's YouTube channel.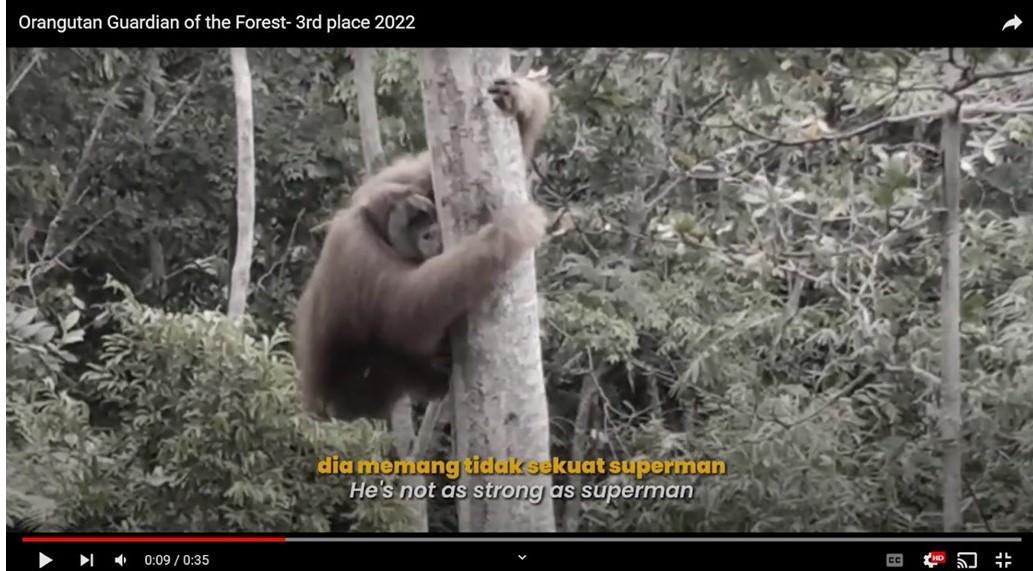 Ahmad explains his reason for making the orangutan the hero of the story, "For most people, of course, often see superhero characters in fiction stories and even in movies. The essence of a superhero in their eyes is one who has super strength and wears his capes. However, in the real world, there are still superheroes who are not known to many people. With that in mind, through this short video, I would like to inform you that orangutans are superheroes who have played a very important role in the preservation of nature, especially in the balance of the ecosystem. Now their biggest enemy is human greed. However, orangutans deserve to be pinned as superheroes and guardians of the forest without the capes, which we all must protect together".
The contest winners will be receiving cash prizes: $500 for 1st place, $250 for 2nd place, and $100 for 3rd place. The other entries were also very good and the artists will be acknowledged for their efforts. OURF may use the images and videos for social media and other educational projects. The creative expressions of these artists, most of them from Indonesia, will help inspire and educate a young generation to take notice and care for the orangutans and other wildlife.
The winning art and videos will be shared and discussed at OURF's No Fuss Fundraiser held via Zoom on November 19th (5-8 pm PST). Tickets are still available at https://tinyurl.com/no-fuss-fundraiser. Proceeds support OURF's mission of saving wild orangutans through education initiatives that call people to action.
---
For more information, visit www.orangutanrepublik.org or contact OURF 2022 Art/Video Contest at info@orangutanrepublik.org