Prillicia Gumbang, the talented recipient of one of the 2018 Central Borneo Orangutan Caring Scholarships named to honor the life of Matthew Jordan Hamilton Foster, has been busy with her studies at Palangka Raya University in the Department of Forestry. She was interviewed for this update:
How have you overcome the challenges of studying during COVID-19?

Prillicia: I find that online learning is very limited to lecture meetings, so interactive discussions between lecturers and students cannot be done to the maximum to explore the material. Moreover, the material delivered during the pandemic is incomplete without practicing in the field. On the other hand, sometimes I feel stressed/saturated due to schedules and tasks that can change, and being unable to meet friends on campus. However, this challenge may be experienced by other people/friends as well. So, I tried to adjust and strategize to solve the problem. Although at first, it was difficult, I believe there will definitely be a solution to overcome it. The ways I address the challenges are:
Start liking, being grateful, getting used to new learning methods. And advise yourself to think wisely as the measures we are taking are to protect the health of yourself and others to minimize the spread of covid-19 between individuals. In addition, with limited time for online lecture meetings, I can have other times to explore or study courses that I like or something new.
Stress/saturation that I experienced may also be experienced by my other friends because of the task. At the time of this pandemic, there was a point where I really missed the atmosphere of a complete class with lecturers and friends to have a discussion about field practices. So, to fill that void I sometimes travel to the woods with my dog and family behind our house and make video calls to some of my closest friends on campus to discuss something interesting.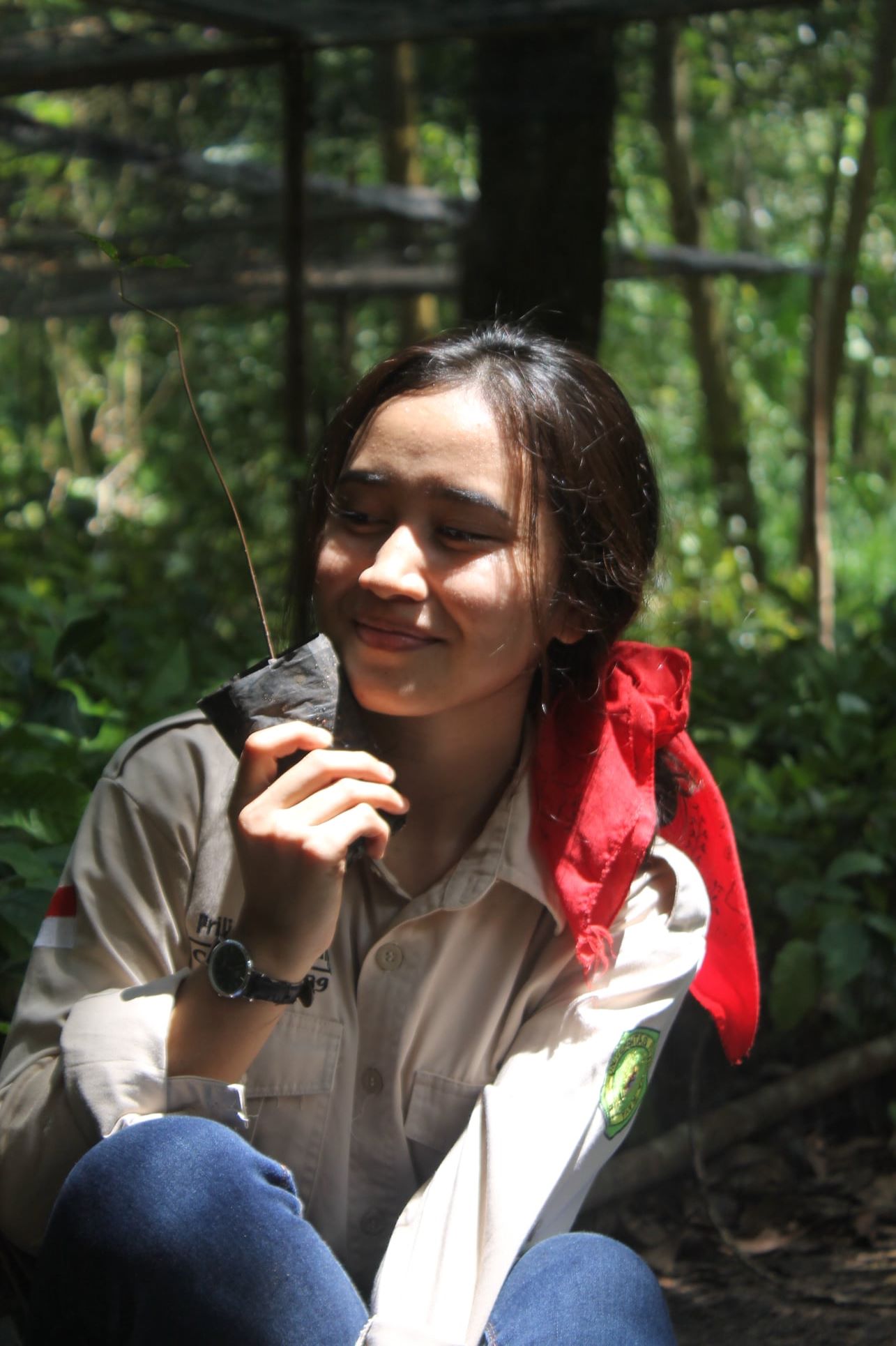 Prillicia enjoying the day in the forest
What is your favorite part about university life?
Prillicia: My favorite part of my University life is getting out of my comfort zone by following the organization, trying to be someone who is active in positive activities related to forestry and the environment, and receiving the special Orangutan Caring Scholarship. This scholarship paved the way for me to be able to receive many new experiences, knowledge, and relationships. Another of my favorite parts of university life is the practice of personally conducting field conservation of forest resources in the Sebangau National Park with friends and some lecturers by studying directly in the field and enjoying the natural beauty that we encounter.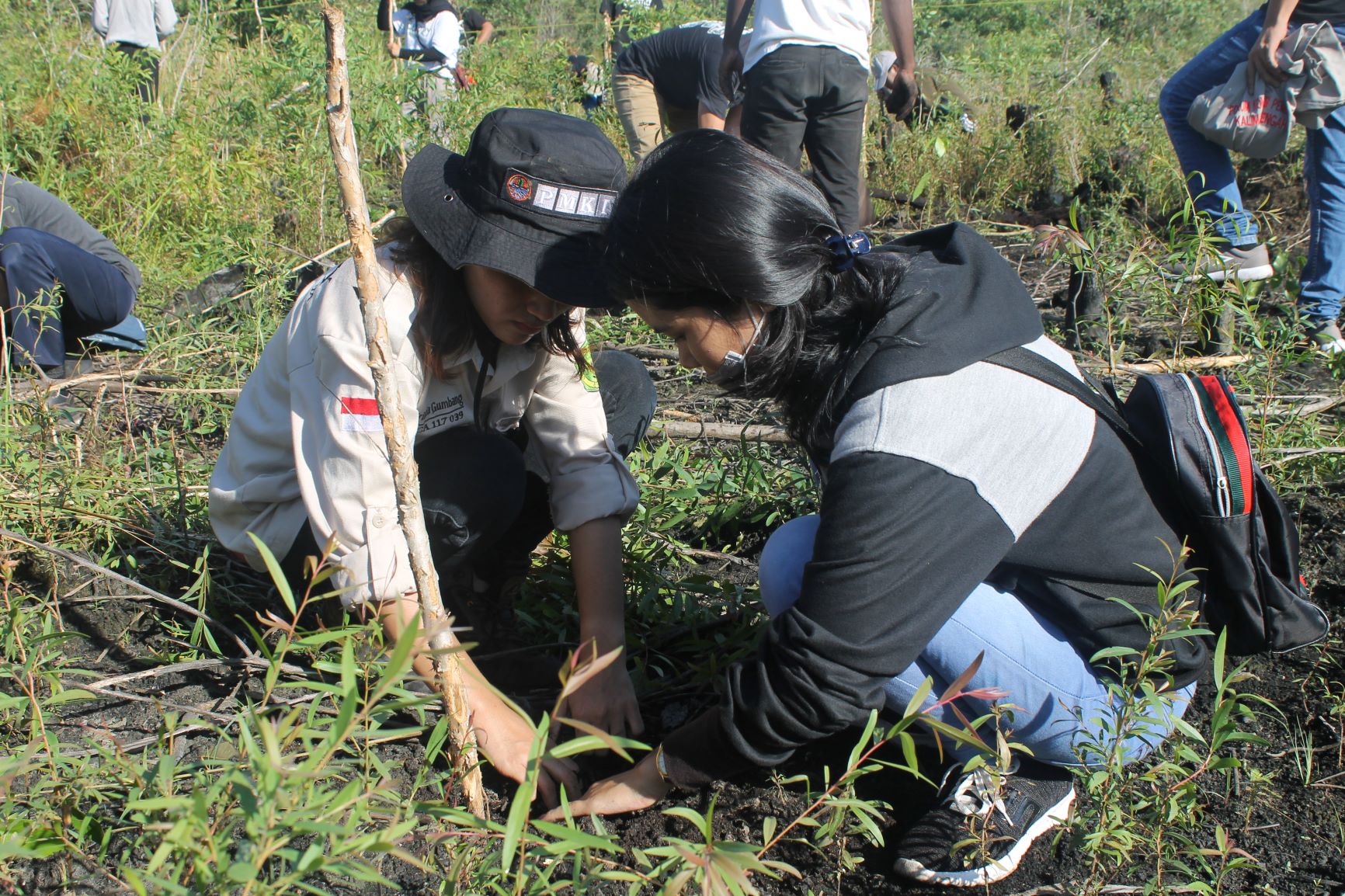 Planting saplings in the forest on the Palangka Raya University campus, to restore the forest that was burned in 2015
What are your future plans for after graduation?

Prillicia: After graduating from the department of forestry, University of Palangka Raya, I really want to deepen my interest in peat forest and orangutan-focused conservation by gaining experience that suits my preferences and interests. With this, I am interested in joining an environmental NGO that has a vision and mission that is appropriate. Then, after having enough knowledge, experience, and insight, I want to continue my studies outside of the country. Not to forget, the most important thing for me is the contribution of my existence that can be useful, influential for the community, the forest of my beloved home in Kalimantan.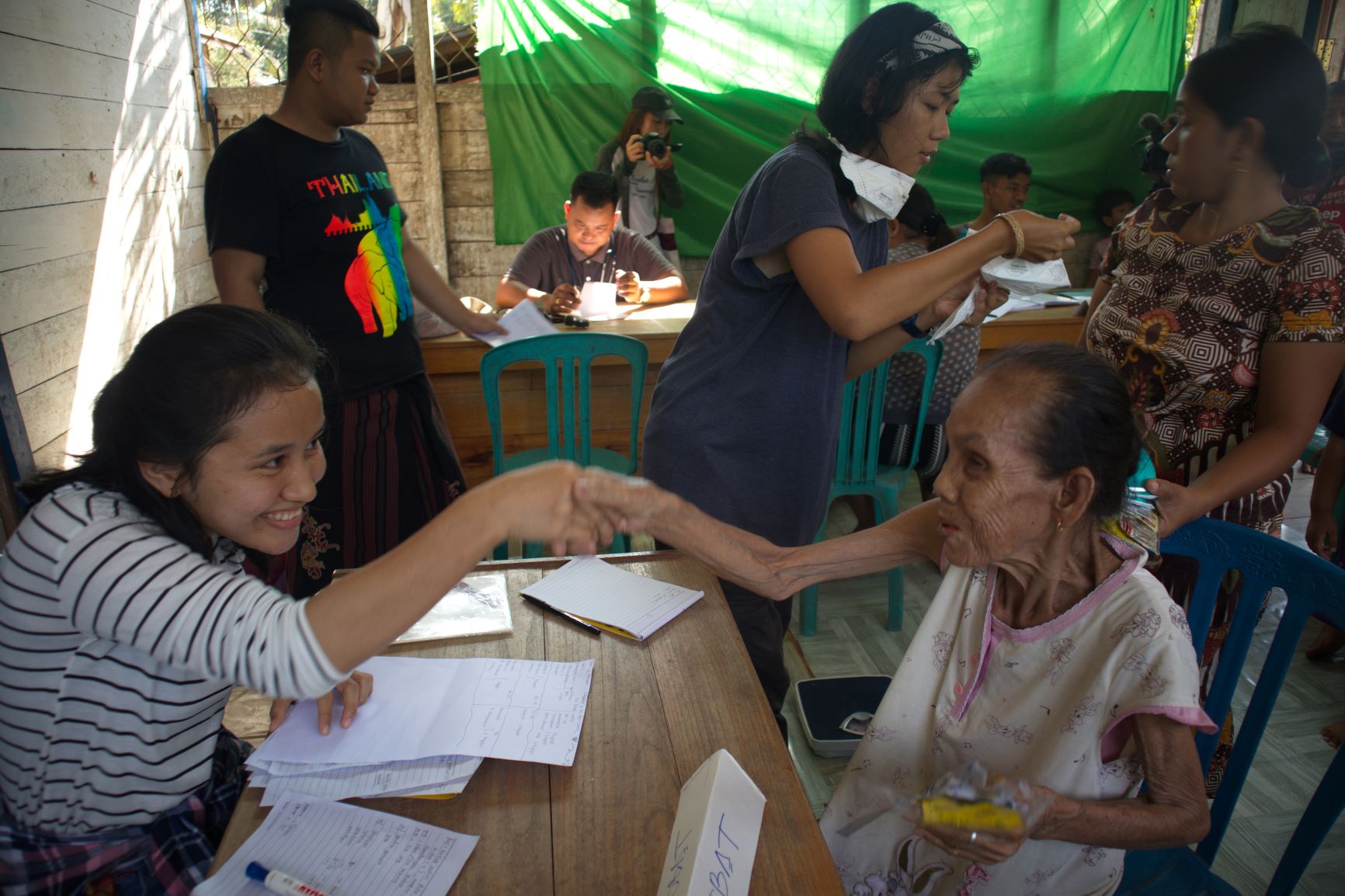 Community health services in Talekoi Village, South Barito, Central Kalimantan. Distributed N95 masks, health checks, distributed medicines, milk, and free vitamins.
What advice would you give someone wanting to study a conservation subject?
Prillicia: The earth on which we all live is currently experiencing many environmental problems with signs of global climate change. So, it is very necessary for people who care, to maintain their existence and sustainability for all living beings and the next generation. One of them is by studying forest conservation or specific flora and fauna as it shows how important its existence is for the sustainability of our lives.
---
Prillicia made a very moving video about environmental challenges facing her home forest in Borneo. You can watch this video at:https://youtu.be/arRuU9QOCps
You can continue to support Prillicia and the other students who have received Orangutan Caring Scholarships through OURF's Sponsor-a-Student program or by making a donation through our Orangutan Caring Scholarship Appeal.