Ecosystem Restoration Concession (ERC) or IUPHHK-RE is a new type of license introduced in 2004 by the Indonesian Ministry of Forestry to reverse the high rate of deforestation in Indonesia's production forests. For the first time, it basically allows for private management of production forest for restoration purposes and not logging.
ERC had been developed as a new market-oriented governmental instrument to counter current deforestation processes and to restore forest ecosystems. This model looks highly promising for conservation and development organizations, along with state authorities in Indonesia and in other countries as well.
Current research shows that the benefits of natural ecosystems are not well recognized and hence it is difficult to attract funds or investment for ERCs. It is necessary to prove the economic feasibility of ecosystem restoration and make it attractive as a business opportunity. Therefore, policy support and sustainable funding mechanisms are needed for ERCs to ensure their economic viability (Rahmawati, 2013).
How does it work?
Ecosystem restoration concession (ERC) licenses are provided by the Indonesian government for periods of 60–100 years. The goal during that time is changing the way of forest management from timber harvesting to restoration through different forest management.
There are three types of ways how to use forest resources: area use, ecosystem service use, and management for non‐timber forest products (NTFP) (Harrison et al., 2020).
Area use
It covers activities such as ecotourism and conservation.
Ecotourism is now defined as "responsible travel to natural areas that conserves the environment, sustains the well-being of the local people, and involves interpretation and education". Education is meant to be inclusive of both staff and guests. (The International Ecotourism Society, 2015). More about ecotourism can be found here.
Recent research published in the journal Natureshows that conserving and restoring habitats that are degraded by agriculture is key to mitigating climate change impacts and avoiding animal species extinction. Preserving natural habitats and restoring 30% of the total converted lands would save 71% of animal species from extinction and absorb 465 gigatonnes of carbon dioxide from the atmosphere (Strassburg et al., 2020).
Ecosystem service use
It is mostly focused on carbon sequestration schemes and water services.
Carbon sequestration means an effort for long-term removing and capturing carbon dioxide from the atmosphere to slow down CO2 pollution. Process of carbon dioxide removal occurs in above-ground growing biomass and in below-ground soil from e.g., soil biomass and decomposition. When falling tree releases carbon into the soil it is eventually incorporated in successional biomass production. Global carbon absorption is counteracted by the release of carbon in the soil by deforestation. Thus, the potential reduction in the release of carbon from avoided deforestation and increased above-ground sequestration through forest plantation and improved forest management can be significant for climate policy (Pachauri et al., 2014).
Through ERC and reforestation process carbon absorption can be increased again and can lead to mitigating or even reversing global warming.
Conversion of natural ecosystems to agroecosystems in the tropics is associated with lower carbon (C) eco-efficiency in terms of carbon storage decrease per unit of harvested biomass than in temperate ecosystems. This is predominantly due to the large amounts of C stored in trees in tropical forests and lower average yields (West et al., 2010).
Management for non‐timber forest products (NTFP)
It covers the production and sale of harvestable non‐timber forest elements (eg. forest foods including honey, medicinal plants, or fiber/biomass production, such as bamboo).
Many of the plants and fungi that are harvested for non-timber products (e.g., foods, medicines, crafts) are critical to healthy forest ecosystems. These products also are essential for local people, because they used to be part of their culture and community. Product sales make important contributions at all economic scales, from household to national economies. Non-timber forest products (NTFPs) have been harvested for generations, sometimes centuries, yet they are seldom integrated into forest management and so they contribute to environmental balance (Chamberlain et al., 2019).
Ecosystem balance
Once "ecosystem balance" has been attained, which is expected to take several decades, ERC license holders may then decide whether to harvest timber. "Ecosystem balance" has been defined as the point at which legally harvestable timber volumes have been reached and there is compliance with forest management safeguards on biodiversity and the environment, such as rehabilitation of riparian buffer zones (Harrison et al., 2020).
Legal logging in sustainable forest
Timber is and has always been by far the most valuable marketable resource for tropical forests. However, the definition of ERCs has limited timber resources. Several studies suggested that recovery of logged forests can take 60–100 years. Only after that timber stocks will recover to pre‐logging levels without intervention. Enrichment planting has been found to greatly increase the rate of recovery and shorten it almost to 40 years (Ruslandi et al. 2017 a,b; Philipson et al. 2020).
How to keep sustainability between agriculture and rainforests
If the logging should be sustainable, then it is necessary to establish a plantation of fast‐growing species which are managed for natural regeneration together with native tree species (see picture below). Because short‐term revenue of logging fast-growing species is generated to cover costs, similar approaches allow managers to contemplate the restoration of larger areas.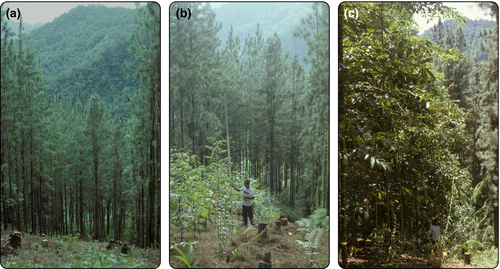 Example of successful restoring natural forests
Establishing native forest in a pine plantation in Sri Lanka. The pine trees act as nurse trees to the young native seedlings, thereby enhancing their survival and growth rates. Three rows of pine are harvested and native seedlings established in the gap (a) 3 months, (b) 2 years, and (c) 6 years after planting (Ashton et al. 2014).
A recent study performed on a Madagascar rainforest showed that even young, scrubby forests have similar benefits as older mature forests. One of them is retaining water, which was proved to be the same efficient as in mature forests (Van Meerveld et al., 2021). This shows us that rainforest does not have to be fully grown to have a bigger impact on the ecosystem.
How effective ERCs really are?
Above mentioned information describes mostly the potential which ERC could have, but if we look at it in numbers, the current situation in Indonesia is slightly different. Restoration business plans remain largely aspirational, and most concessions have made only limited progress toward realizing revenue streams. Viable business restoration models are currently complicated with high operating costs and overregulation.
By today there have been issued 16 licenses in total, covering an area of 623,075 ha out of 2.7 million ha. Among the problems facing the ten license holders, nine mentioned the need for improved boundary enforcement and conflict resolution; nine also requested access to carbon markets, which is currently inhibited by Indonesia's REDD+ policy; seven requested lower taxes and a simplified, less costly permitting process; and five requested simplification of the reporting process (Harrison 2020).
Also not everywhere holders are able to follow license holding rules. Hunting was reported in eight of the ERSs. Deforestation is ongoing in six, illegal logging was reported in 12. Forest fires destroyed thousands of square kilometers across Indonesia caused by people who were illegally encroaching the area and clearing it by burning (Jong, 2020; Harrison, 2020).
Future of ERCs
Even though the situation is not as it was expected in the beginning. License holders stay positive and agree that relatively small changes, such as the elimination of perverse regulations and reductions in taxes and reporting costs, could greatly improve the business environment.
Recent changes to ERC regulations have begun to address these issues and, despite numerous remaining challenges, concessionaires have expressed a high degree of confidence in the ultimate success of these reforms.
---
References
Pachauri et al., 2014, Contribution of Working Groups I, II and III to the Fifth Assessment Report of the Intergovernmental Panel on Climate Change, Climate Change 2014: Synthesis Report
Chamberlain et al, 2019, Sustainable Forest Management for Nontimber Products, Sustainability 11(9):2670, DOI:10.3390/su11092670
Ruslandi et al., 2017a. Effects of silvicultural intensification on timber yields, carbon dynamics, and tree species composition in a dipterocarp forest in Kalimantan, Indonesia: an individual‐tree-based model simulation, Forest Ecol Manag 390: 104–18.
Ruslandi et al. 2017b. Financial viability and carbon payment potential of large‐scale silvicultural intensification in logged dipterocarp forests in Indonesia, Forest Policy Econ 85: 95–102.
Philipson et al. 2020, Active restoration accelerate the carbon recovery of human‐modified tropical forests. Science 369: 838–41
Ashton et al. 2014, Restoration of rain forest beneath pine plantations: a relay floristic model with special application to tropical South Asia. Forest Ecol Manag 329: 351–59
Van Meerveld et al., 2021, Forest regeneration can positively contribute to local hydrological ecosystem services: Implications for forest landscape restoration. Journal of Applied Ecology. doi:10.1111/1365-2664.13836
The International Ecotourism Society, 2015, Definitions and principles; https://ecotourism.org/news/ties-announces-ecotourism-principles-revision/
Strassburg et al., 2020, Global priority areas for ecosystem restoration. Nature, 586(7831), 724-729. doi:10.1038/s41586-020-2784-9
Jong, 2020, Indonesian Environment Ministry ends WWF partnership amid public spat, Mongabay
West et al., 2010, Trading carbon for food: global comparison of carbon stocks vs. crop yields on agricultural land. Proc. Natl. Acad. Sci. USA; 107:19645–19648. doi: 10.1073/pnas.1011078107
---
This article was researched and written by Veronika Pavlíková, OURF Volunteer.