by Gary Shapiro, OURF President. "Thanks for helping out today, John," is what I said to volunteer John Page in 2006 as he assisted me in taking down our pop-up canopy, finishing a morning of outreach at the Santa Monica Farmer's Market.
I have thanked many volunteers over the years, individuals who found free time in their busy days to support the work of the Orang Utan Republik Foundation (OURF). Volunteers are our lifeblood. John helped us in the early years by building a responsive website for OURF and then went beyond to support our workshop in Indonesia in 2006 by accompanying me to Sumatra.
John Page enjoying a meal break with Inggriani during our Sunday outreach at the Santa Monica Farmer's Market

Over the 17 years that OURF has been active, dozens of volunteers have stepped forward to assist my wife and me in running the programs of the Orangutan Republik and pursue its mission. While many non-profit organizations have no volunteer programs, OURF has people from around the world helping us. We seek motivated, skilled people eager to make a difference with their time, energy, and creativity. Our board of directors are all volunteers and guide the organization with its responsible fiduciary governance.

A special group of volunteers materializes each year to serve on our annual fundraising committee. They help plan, organize and coordinate the event, ensuring everyone in attendance has a great time while raising money. Susan Callery, the secretary of OURF's board of directors and a specialist on the impacts of Palm Oil in Indonesia, has led this volunteer team year after year. Why does she keep supporting OURF? "I love orangutans, and after visiting the orangutans in Borneo, I want to be part of the Orang Utan Republik," she says. Here, volunteers are not only essential but find meaning in giving a part of themselves to a cause.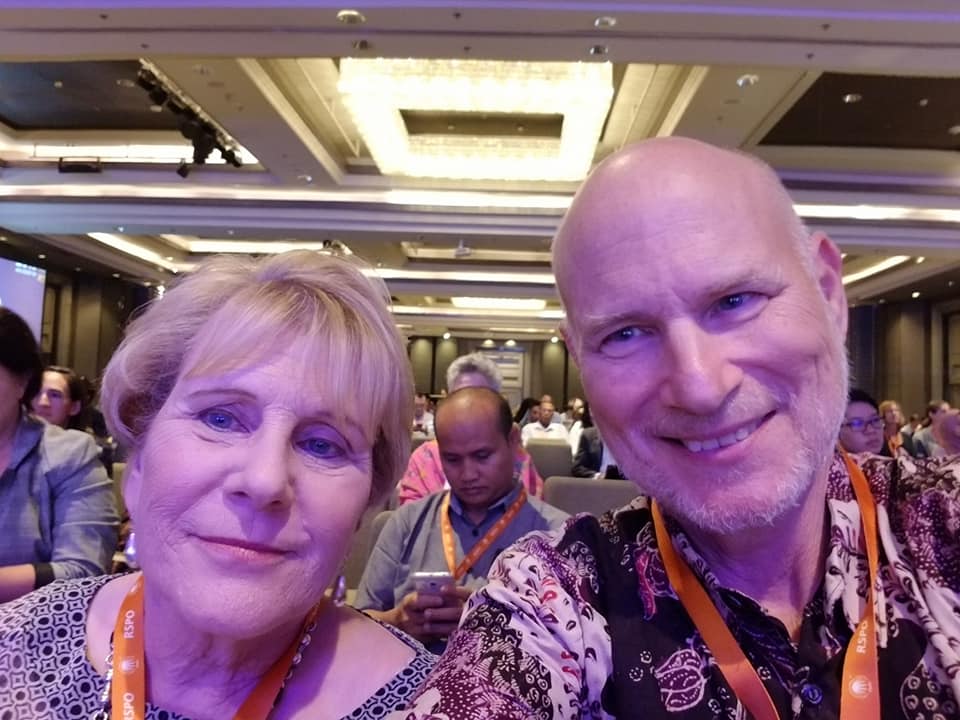 Volunteer Susan Callery, OURF Secretary, Board Member, and palm oil specialist attending the RSPO in Thailand (2019)

Another board member, Liz Varnhagen, is the co-chair of our Indonesian field programs which includes the Community Education and Conservation Program operated by the young Indonesian conservation educators in North Sumatra that we sponsor. Liz has traveled to work with this field team as an OURF volunteer and continues to stay active with the oversight and guidance of this team in collaboration with me, at home here in California, helping elevate the quality of their planning and documentation. She is also a committed donor that helps enable this aspiring group to perform its important conservation work on the ground in Sumatra.
Volunteer Board member Liz Varnhagen working with me on agenda items prior to an OURF Board Meeting
Several years ago we created several new committees in order to delegate some of the duties within this organization in place of an executive director. One of the committees is Social Media, a function that has evolved into a complex communication ecosystem that needs regular management. I discovered a website called Volunteer Match that pairs talented people from around the world with nonprofit organizations seeking volunteers for various roles. In 2017, an Indonesian ex-pat living in Sweden contacted me through Volunteer Match and offered to help with Membership Recruitment. Wuri Rostandy, was the ideal volunteer as she wanted to give back to her country. Many Indonesians living overseas have observed what has been happening to the wildlife and environment, especially as large-scale agriculture has decimated their native forests and biodiversity. I was delighted that Wuri wanted to help us. From her home in Sweden, she was able to enroll other Indonesians to join various campaigns that raise awareness on various social media channels. Using her professional experience with social media, she hosted art and video contests where many young and talented Indonesians submitted their inspired creations. Wuri also helped manage the Orangutan Caring Scholarship Program as a native speaker who could effectively communicate with our benefitting students in Sumatra and Kalimantan. And if that wasn't enough, Wuri and her husband, Huib, a Google employee, were able to successfully lobby Google's Giving Week to raise funds to benefit OURF for three successive years, raising nearly $30,000 altogether. We feel forever indebted to Wuri.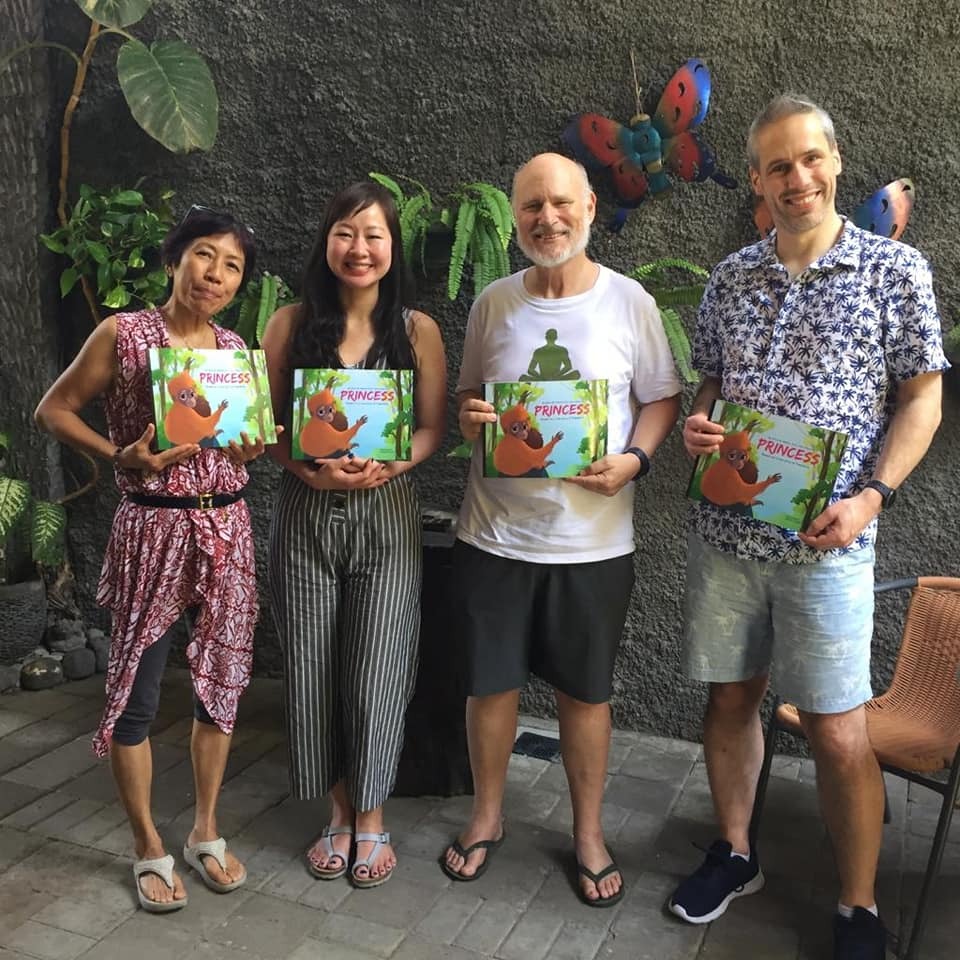 Volunteer Wuri and her husband, Huib, met Inggriani and me in Bali.
Before the Covid-19 lockdown, OURF held many outreach events across Southern California especially during holidays and celebrations like Earthday and Orangutan Caring Week. Because we had numerous volunteers, Kim Riley, Laura Molina, Jill Sexton, Lisa Seigel, Lesa Miller, Harvey Jordan, and Doug Fretty to name a few, there were some years where we could mount more than one outreach booth at a time. During those events, we were able to meet and engage with individuals and families who came to learn about the plight of the great red ape. Some have become dedicated donors to OURF.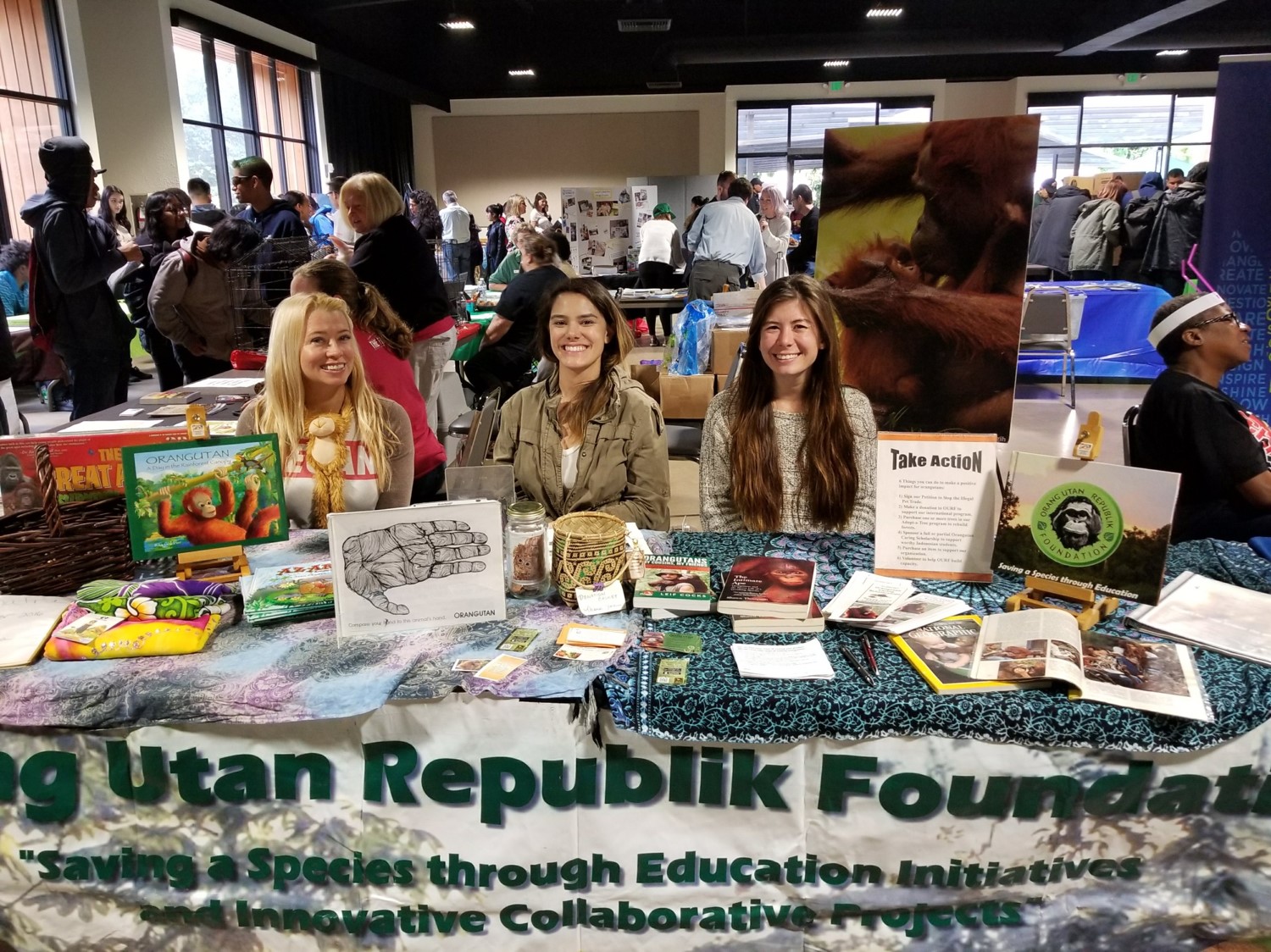 OURF Volunteers Jill Sexton, Laura Molina, and Kim Riley staff the OURF table during a Springtime outreach event.
Since the Covid lockdown, OURF has held its events online like every other similar nonprofit but we have continued to thrive. In 2020, OURF held its Annual Fundraiser and Pongo Awards as a Livestream in a digital studio in Hollywood. With the help of several key volunteers such as Ed Begley, Jr., David Blake, Harvey Jordan, Jason Shapiro and the family team led by Brandon Wollner and his, What You Want Productions, we were able to put on a quality broadcast that spotlighted award recipients and participants from Indonesia and Australia as well as live and pretape musical performances by JP Taylor, Debi Derryberry, Freebo & Sally Howe, and David Blake.